Crab Ranch Gorgonzola Slaw #RSC
photo by logansw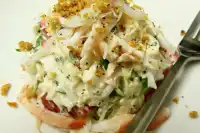 Ready In:

15mins

Ingredients:

13
directions
Combine dressing ingredients in a large mixing bowl. Mix well. Fold in 1/2 of the crab meat, tomatoes, parsley and chives.
Chill in fridge for at least 1 hour. When ready to serve, top slaw with remaining crab meat and fried garlic.
Questions & Replies

Got a question?
Share it with the community!
Reviews
Doesn't look like many of the people writing reviews for this recipe actually made the recipe which is not helpful: please only post a review of a recipe if you actually make the recipe. There is little value to 57 people saying "This looks delicious!"<br/><br/>I actually did make this recipe this past weekend and while it is good (can't miss with crab!) I would not make it again as written and have the following thoughts on it:<br/><br/>1) Ingredient overkill: this recipe is much more complicated than it needs to be. It could be twice as good with half the effort.<br/><br/>2) Skip the cheese: it doesn't add enough to the flavor, or character, of the recipe to justify inclusion. The ranch dressing handles the flavor just fine without it. The cheese does add calories and cost, though, even though I subbed blue cheese for Gorgonzola.<br/><br/>3) Don't use coleslaw mix: just buy a cabbage, cut up half of it, add carrots and a quarter or half of a Bermuda onion and make it yourself. Don?t ever buy bagged salad. It's just not natural! Did you hear about the recent Cyclospora outbreak tied to salad mix? Buy local, farm to table, whenever possible.<br/><br/>4) Skip the grape tomatoes and, instead, just serve it with tomatoes. They do break up the color but it's a whole 'nother unnecessary step and nobody will miss them.<br/><br/>5) Skip the mayonnaise completely. The buttermilk/yoghurt combo provides plenty of body. I also recommend halving the volume of the dressing, as written it makes a ton.<br/><br/>6) The lemon is great with the crab flavor. Nice touch.<br/><br/>7) Just add the whole pound of crabmeat into the slaw rather than divide it. This improves portability if it has to travel.<br/><br/>8) Chives and parsley, why? I would stick with the standard purple of the Bermuda onion for the onion flavor. It looks better anyway. And skip the parsley. Do you usually put parsley in Cole Slaw? No. Then why add it here?<br/><br/>9) Top with fried garlic? It's not even mentioned in the ingredient list and again, what does it really add?<br/><br/>10) The instructions are weak as written. They almost appear as an afterthought. They need more detail.