Chicken Breasts Smothered in a Mushroom Cream Sauce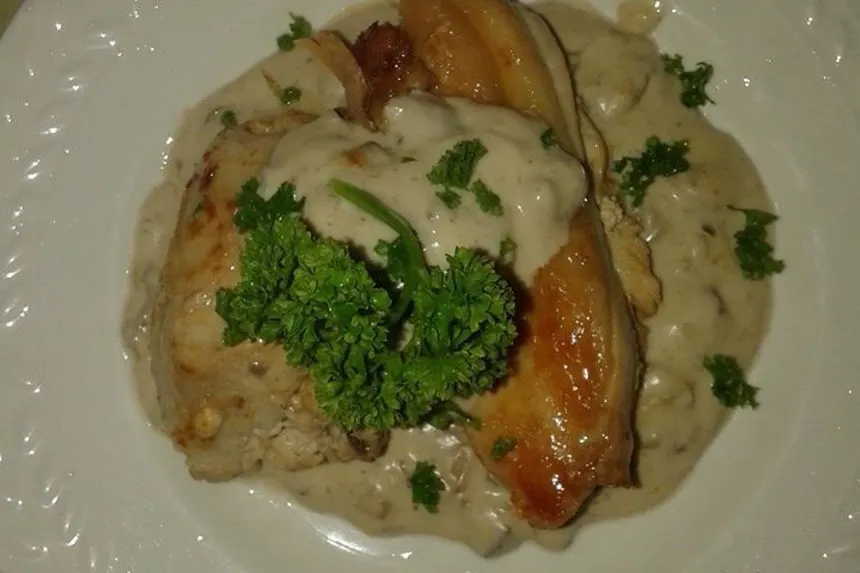 photo by Nas N.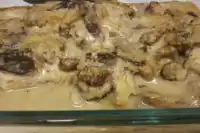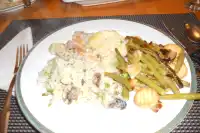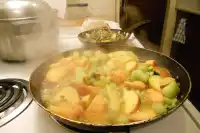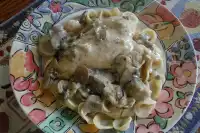 Ready In:

50mins

Ingredients:

10
directions
Heat oil in medium size frying pan.
Saute mushrooms for 5 minutes (stirring often to prevent burning). Add diced onion and saute until translucent (about 3-5 minutes).
Add garlic and stir for 1 minute.
Add mushroom soup, 1/2 and 1/2, basil, paprika and salt and pepper to taste.
Mix well and take off heat.
Heat oven to 350 degrees F.
Wash and pat chicken dry.
Arrange chicken in a 2 quart baking dish.
Spoon mushroom mixture over chicken.
Sprinkle with croutons or parmesan cheese (optional).
Bake uncovered for 30 minutes or until juices run clear when pierced.
Reviews
I made this with two cans of cream of mushroom soup -- I love the extra sauce for my rice. I only had three chicken breasts and I cut them up as a previous person mentioned. I didn't use mushrooms as I didn't have any. LOVE LOVE LOVED it !!! I've made something similar but this really tops it. My new favourite go to. Fresh garlic (I store my cloves in the freezer for ease of use).

 

This is the second time I've used this recipe. On this occasion, I wound up doubling the ingredients. This chicken dish is not only easy to make but is phenomenal. My family and I love it. (And I have a four year old who is very picky when it comes to food). I encourage you to try this dish; you will not be dissapointed.

 
RECIPE SUBMITTED BY
I AM A MARRIED MOTHER OF 3. COOKING IS A PASSION OF MINE. FINE FOOD MARKETS AND GROCERY STORES ARE MY "HANG OUTS". I LOVE THE FACT THAT THERE IS NO END IN LEARNING. I ENJOY THE WHOLE PROCESS OF COOKING, FROM FINDING A NEW RECIPE, GROCERY SHOPPING, EXPERIMENTING -- RIGHT TO THE DINNER TABLE. MY FAMILY APPRECIATES THE EFFORT I PUT INTO MEALS WHICH IS A WONDERFUL REWARD. ~NO PICKY EATERS HERE~ MY CHILDREN'S MINDS ARE OPEN TO ALL TYPES OF FOOD (WHEN IN MEXICO MY YOUNGEST SON ORDERED QUAIL AT A RESTAURANT AND LOVED IT). <img src="http://i26.photobucket.com/albums/c105/jewelies/Grevillia1.jpg">recipe swap 2008 <img src="http://i26.photobucket.com/albums/c105/jewelies/babygrey-1.jpg"> <img src="http://i26.photobucket.com/albums/c105/jewelies/Cooking-Kangaroo-2.jpg"> <img src="http://i26.photobucket.com/albums/c105/jewelies/Hebe-1.jpg"> Recipe Swap September 2008 <img src="http://i26.photobucket.com/albums/c105/jewelies/GoldenWattle-1-1.jpg"> Recipe Swap October 2008 <img src="http://i26.photobucket.com/albums/c105/jewelies/boronia-1-1.jpg"> Recipe Swap November 2008 <img src="http://i26.photobucket.com/albums/c105/jewelies/2cockatoos-1.jpg"> Recipe Swap December '08 <img src="http://i26.photobucket.com/albums/c105/jewelies/pic53mWVE-1.jpg"> Recipe Swap January '09 <img src="http://i26.photobucket.com/albums/c105/jewelies/pichy1L7z-1.jpg"> Recipe Swap February '09 <img src="http://i26.photobucket.com/albums/c105/jewelies/pic5BTaSK-1.jpg"> Recipe Swap March '09 <img src="http://i26.photobucket.com/albums/c105/jewelies/pickxwB1q-1.jpg"> Recipe Swap April '09 <img src="http://i26.photobucket.com/albums/c105/jewelies/picx2XGjA-1.jpg"> Recipe Swap May '09 <img src="http://i26.photobucket.com/albums/c105/jewelies/picwJT0Wr-1.jpg"> Recipe Swap June '09 AND July '09 <img src="http://i26.photobucket.com/albums/c105/jewelies/picbzMWsf-1.jpg"> Recipe Swap August '09 href="http://www.amazingcounter.com"> <img border="0" src="http://cb.amazingcounters.com/counter.php?i=2319896&c=6960001" alt="Web Page Counter"></a> <img style="visibility:hidden;width:0px;height:0px;" border=0 width=0 height=0 src="http://counters.gigya.com/wildfire/IMP/CXNID=2000002.0NXC/bT*xJmx*PTEyMzc5MTY4MjkyNTkmcHQ9MTIzNzkxNzAxNTY3NyZwPTMyMzAwMiZkPW1hcGxvY28mZz*xJnQ9Jm89ZTM*OTQ2YjBkZDAwNDY*ZTg2YzM5MTIzY2E4ZjI5MjY=.gif" /><a href="http://www.maploco.com/view.php?id=3288995"><img border=0 src="http://www.maploco.com/vmap/3288995.png" alt="Visitor Map"></a><a href="http://www.maploco.com/">Create your own visitor map!</a>
View Full Profile