Authentic New Mexico Green Chile Stew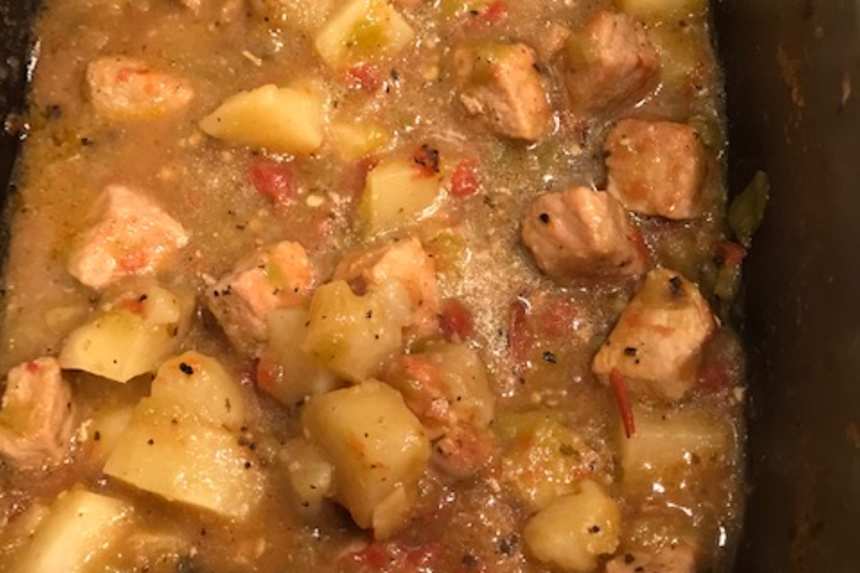 photo by jkpape1967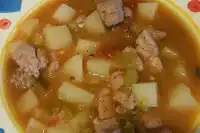 Ready In:

2hrs 45mins

Ingredients:

17
directions
Broil green chiles in the oven turning often to evenly darken skin making sure they don't burn.
Remove from oven and cover with a dish cloth for 10 minutes to steam the skins off.
While the chiles are resting, cube the meat, sprinkle with salt & pepper and brown with onions & garlic in oil in a large pot for 5 minutes.
add jalepeno, broth, half a can of beer, spices.bring to a simmer.
let simmer for 1 hour.
Peel skin from chiles, chop and add to the pot (including the seeds).
Let simmer for 30 minutes then add the tomatoes & potatoes (add a cup of hot water if needed).
Simmer until potatoes are done.
melt butter in a small skillet & add flour, cook for 2 minutes stirring constantly -- add to the pot.
Questions & Replies

Reviews
We make this often when Hatch chiles are in season. As others have stated I roast hatch chiles over mesquite. I claim the best results are acheived by using a milder Hatch chile like a Big Jim and then bringing the heat up according to you tastes with a Barker or Sandia. Skip the Jalepenos. Skip the beer. Also, I prefer a beef stew, so I use beef broth instead of chicken. Potatoes make this recipe! I use as many potatoes as the remaining liquid will bear. Garnish with cheese, cilantro and sour cream. A twist of lime just before serving with crusty bread or warm tortillas. Yum!

 

My husband and family are from New Mexico. The youngest of 14 and knows his mexican food well since his sisters and Mom did all of the cooking. I has had to compete with any meal I've ever tried and today my husband said it was the best green chili stew he has every had. Of course we use hatch green chili. I was a little hesitant with the beer but what a nice touch and I think maybe it tenderized the pork even more. Pleased to say I wouldn't change a thing. I followed the recipe as written. Yummmmmmmmmmmm. PS I was born and raised in Washington state.

 
Tweaks
Hi, here are some tweaks I've made to this and other Green Chile Stew recipes: Hatch chiles - If you have trouble finding Hatch chiles (they're typically harvested early summer/fall), some of the growers in Hatch will have them frozen and can ship them to you. If I haven't planned that far ahead (!), I'll use a cup or two of 505 Southwestern Flame-Roasted Green Chiles (medium). Costco sells them in giant jars, most grocery stores have it (in the Southwest), and I've also seen it on Amazon. I personally wouldn't sub in other peppers because it loses the homey roasted flavor of Hatch chiles. Potatoes - I typically use sweet potatoes--nice balance of spicy and sweet--or hominy. If I don't have those, I'll go to potatoes. All are good! Pork - If I'm in a hurry, I'll use Del Real Carnitas (or any carnitas) or the smoked pulled pork from Costco...both have a nice smoky flavor. Roux - I typically don't do a roux because I like it a little soupy. Besides, the sweet potatoes/potatoes will break down and thicken it up a bit. Add-ins - I love adding in a handful or so of fresh or frozen corn...more veggies!