10 Game-Changing Ways to Eat Tons More Tater Tots

The greatest potato-based innovation of modern snacking times? Tater tots in a landslide. If you can't get enough of those perfectly-portioned cubes of comfort food, keep reading and learn how to book yourself a one-way, express ticket to Tot-Town—and enjoy your stay.
get the Food.com app.
Watch on your iPhone, iPad, Apple TV, Android, Roku, or Fire TV.
Learn More
Homemade Tater Tots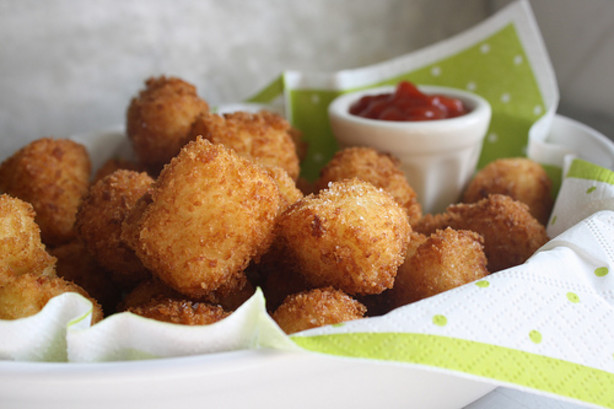 Hey, we all have to crawl before we can power walk. Take the first step towards your new tot-dominated life by crafting these crackly little nubs from scratch. Dredge spoonfuls of leftover mashed spuds in panko breadcrumbs, fry them in veg oil and display those gleaming golden hunks on a pedestal. Get the recipe >>
Tater Tot Cups with Cheese & Eggs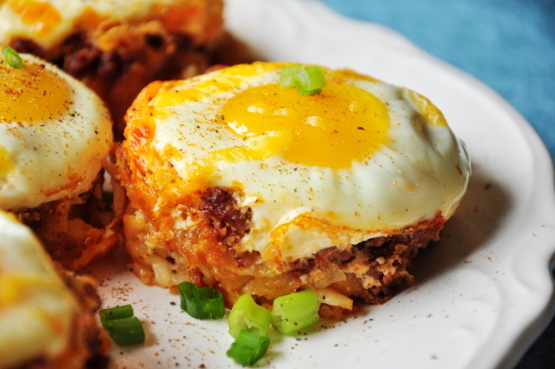 Hey, we all have to crawl before we can power walk. Take the first step towards your new tot-dominated life by crafting these crackly little nubs from scratch. Dredge spoonfuls of leftover mashed spuds in panko breadcrumbs, fry them in veg oil and display those gleaming golden hunks on a pedestal. Get the recipe >>
Cheesy Potato Casserole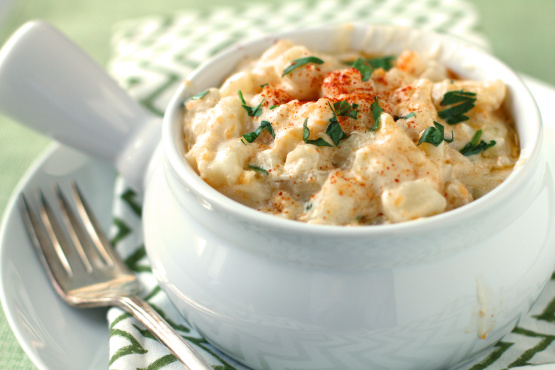 Important potato-related PSA: Never leave your precious tots on the sidelines. They deserve the center stage treatment in this cheesy casserole—all buttered up with sour cream, diced onion and cream of chicken soup. Now go ahead and take a bow. Get the recipe >>
Fresh Corn Salsa Frittata with Hash Brown Crust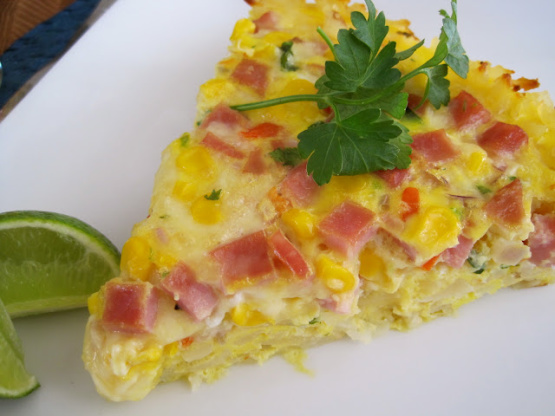 Never were three more friendly words spoken than "hash brown crust." Those crunchy, frizzled ribbons were meant to cradle your breakfast in a loving embrace. Let the magic happen by smothering those tots with a fluffy frittata studded with diced ham, Monterey Jack cheese and spicy corn salsa. That just feels so right. Get the recipe >>
Tater Tot Nachos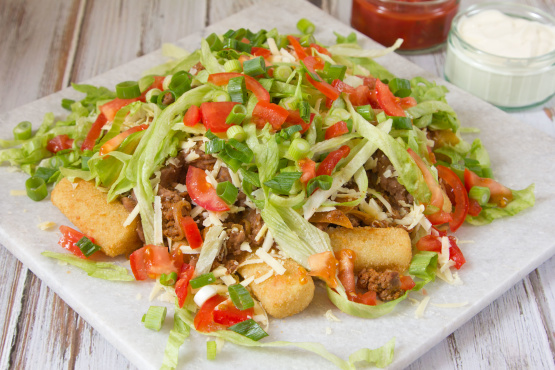 Totchos have officially hit the scene and the paparazzi are swarming. The glare of the flashbulbs only intensifies their star power, and these tots are dressed to the nines in an on-trend ensemble of seasoned ground beef, refried beans, cheddar cheese, sour cream and salsa. This will definitely go over well on Fashion Police. Get the recipe >>
Crispy Shrimp Bundles with Smoky Dipping Sauce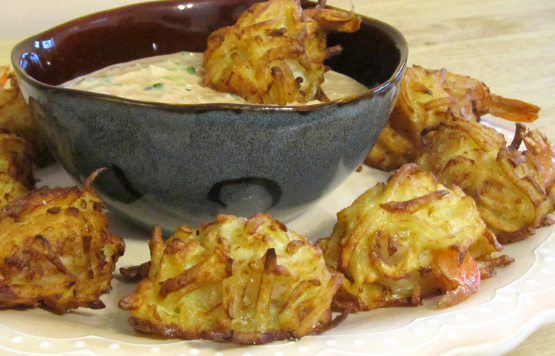 Breaking scandal: Shrimp and shredded taters were recently spotted canoodling in your frying pan. Throwing caution to the wind, the pair went on to take a dip in a nearby pool of smoky remoulade, laced with whole grain mustard, garlic, cilantro and adobo sauce. For more information on how to recreate this daring scene in your own kitchen, consult your local grocery store. Get the recipe >>
Tater Tot Hotdish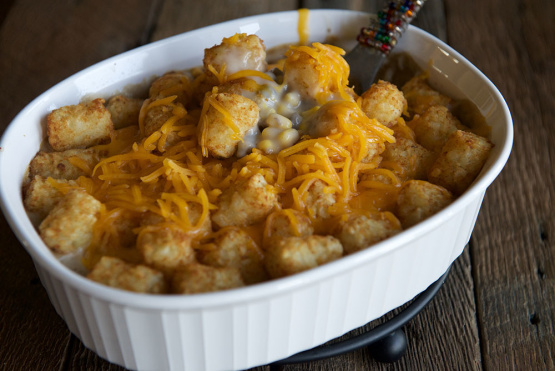 Whoa, break me off a piece of that hot dish. Minnesotans know how to craft a hearty casserole, and this is their holy grail. The four keys to unlocking this Midwestern treasure are as follows: a base of ground beef, a blanket of vegetables like sweet corn or green beans, a thick coat of cream of mushroom soup and a crispy grid of hot tots and melted cheese. Get the recipe >>
Potato Rosemary-Crusted Fish Fillets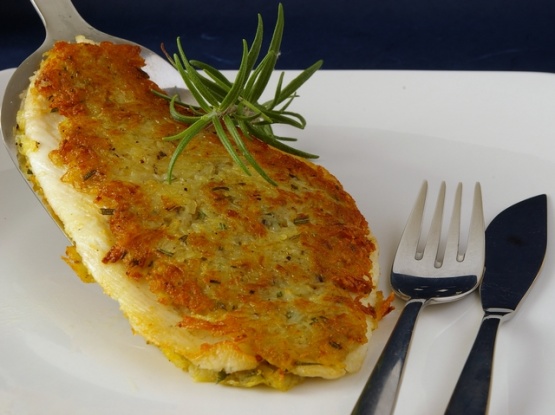 You could crust a combat boot in fried potatoes and it would probably taste pretty great. Fortunately, these cod fillets are considerably less chewy and much more enticing thanks to a shielding layer of rosemary-infused tots—otherwise known as the height of elegance. Get the recipe >>
Tater Tot Potato Skins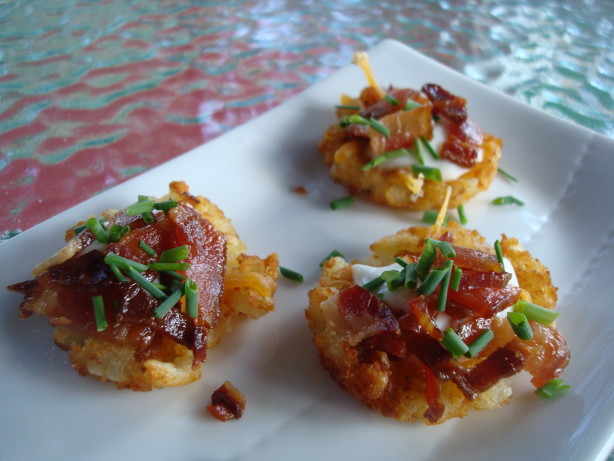 Why would you serve sad, scrawny potato skins (like an animal) when you could be dishing out chewy tater tot slabs, loaded with sour cream, cheese and bacon? Your taters were meant for a higher purpose, and that purpose is prepping appetizers that make your party guests 50 shades of jealous. Get the recipe >>
Dilly Smoked Salmon Potato Stacks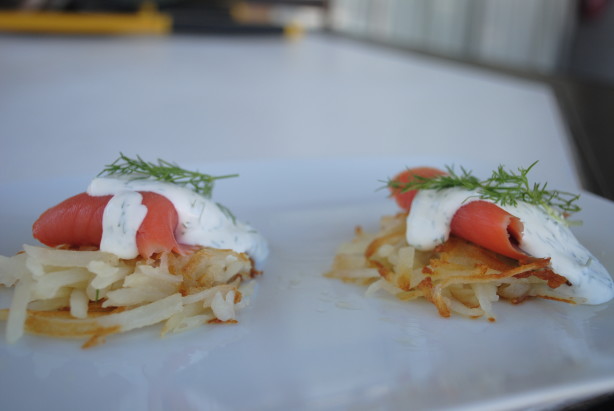 Blinis take the backseat when shredded potatoes show up to brunch. That's because a round of salty, seared potato shards will always upstage bland pancakes, especially when draped in smoked salmon and slathered in dill-enhanced creme fraiche. Game, set, stack. Get the recipe >>