Turkey Sandwich Bread (Aka Stuffing Bread)
Demelza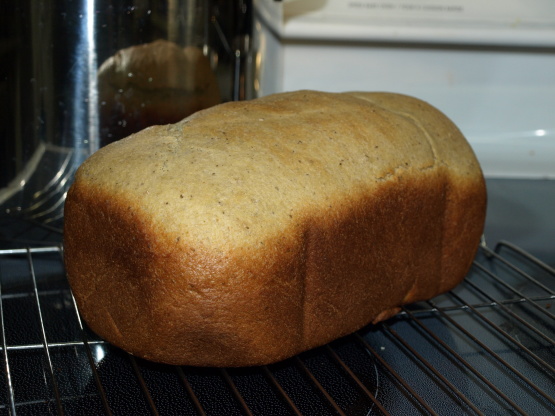 I always make a loaf of this bread on Boxing Day to use for hot turkey sandwiches. I took a stuffing bread recipe and tweaked it a bit to suit what my family likes. It is a wonderfully scented, dense loaf of bread. It is also great toasted. I make it in my Black & Decker All in One Bread Maker with a horizontal loaf pan, rapid bake II cycle, medium crust, 2 1/2 pound loaf size. If you were actually going to use it for stuffing you could add sauted celery, onion or other ingredients you wanted. I always use instant yeast when I bake breads & rolls. You can substitute brown or white sugar for the honey in this recipe. I always have fine cornmeal in the cupboard, feel free to use coarse grind if that is what you have. Don't forget if your spices have been in your cupboard for too long, they will have lost their flavor. The directions are for using a breadmaker, but you could certainly make this by hand. I also remove my mixing paddles before the bread starts to rise to avoid big holes in the bottom of the loaf.
Add ingredients to breadmaker pan in order given, or as directed by manufacturer.
Set to desired baking cycle, loaf size and crust colour.
Watch during mixing to determine if you need to add additional liquid or flour. Just 1 Tbsp at a time if required.
Remove mixing paddles from pan before bread starts to rise to avoid large holes in loaf.
When finished, remove from pan, brush top of loaf with butter & let cool if you can.
When cool, slice and store in bag for hot or cold sandwiches.
Enjoy!