The Original Chi-Chi's Mexican Fried Ice Cream
lservies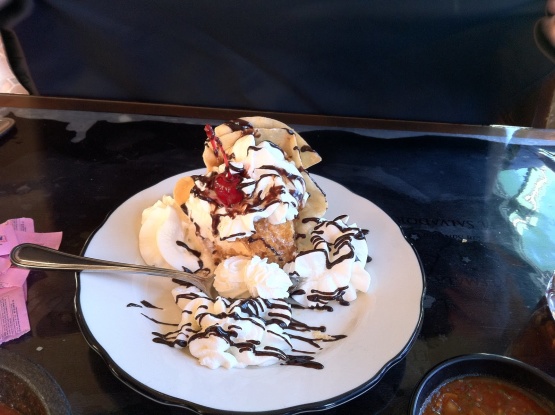 This is the original Chi-Chi's Mexican Fried Ice Cream. You can serve this on the fried flour tortilla sprinkled with a cinnamon sugar mix as it was done in the later years or in a sherbet glass as it was in the early 80's. At one point we even offered these in chocolate and strawberry as well. Prep time is for the ice cream ball to harden.

Chi-Chi's Fried Ice Cream is my husband's favorite dessert ever, and since the chain shut down he has missed it tons. Any other that we tried just didn't compare. I surprised him with this and he was ecstatic! It is delicious and tastes just like Chi-Chi's. Thank you for this recipe (and the Pollo Magnifico too)!
Form 4 oz. of French vanilla into a ball.
Roll the ball of ice cream in the cinnamon sugar mixture until completely coated.
Roll in corn flake crumbs till coated.
Place in the freezer to harden.
Place the hardened ice cream ball in a fry basket and deep fry for 2 seconds at 350 degrees fahrenheit.
FOR THE SHERBET GLASS(the early years):.
Put a dollop of whip cream in the bottom of the glass.
Place the fried ice cream ball on top of the dollop.
Drizzle a small amount of honey over the top of the ice cream ball.
Place 8 whip cream rosettes around the ice cream ball and one on top.
Top with a maraschino cherry.
Enjoy!
FOR THE TORTILLA (the later years):.
Deep fry a tortilla flat until crispy.
Sprinkle with the remaining cinnamon sugar mixture.
Follow the instructions for the sherbet glass.
Enjoy!