Terry's White Chocolate Macadamia Biscotti, (Tender Biscotti)
letarr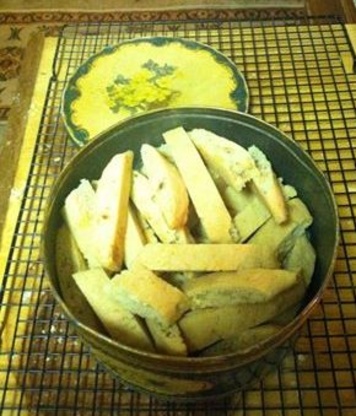 I don't like biscotti in general, they are too hard and I don't dunk anything in milk or coffee, just not my thing...my good friend and past landlady Terry made these biscotti and I only tried them to make her happy. Oh my god! They were so good and NOT hard, crisp but tender! If biscotti is not your thing, give these a try, you might change your mind!

Awesome recipe! Best biscotti I have ever made. I made three batches today, one was pistacio, one was apricot and pistacio and one was lemon walnut. I also dipped the tips in chocolate and white chocolate for the lemon walnut. Super delicious. You can add anything to this great recipe. I am wondering if the unbleached flour makes the difference from other recipes. Try it and treat yourself and give as gifts.
In a mixing bowl cream butter and sugar until light and fluffy.
Beat in eggs, vanilla and liqueur.
In a bowl combine the flour, baking powder and salt.
Add to the creamed mixture, mixing until blended.
Fold in nuts and chocolate chips. Divide dough in half.
On a greased and floured baking sheet pat out into two logs about 1/2 in high, 1 1/2 inches wide and 14 inches long, placing them at least 2 inches apart.
Bake in the middle of a preheated 325 degree oven for 25 minutes or until lightly browned.
Transfer from baking sheet to a rack.
Let cool for 5 minutes. Place on a cutting board.
With a serrated knife slice diagonally on a 45 degree angle about 1/2 inch thick.
Place the slices upright on the baking sheet and return to the oven for about 8 minutes longer to dry slightly.
Let cool on a rack.
Store in a tightly covered container.