Sweet Potato "pasta" With Tangy Marinara: a Raw Food R
FawnM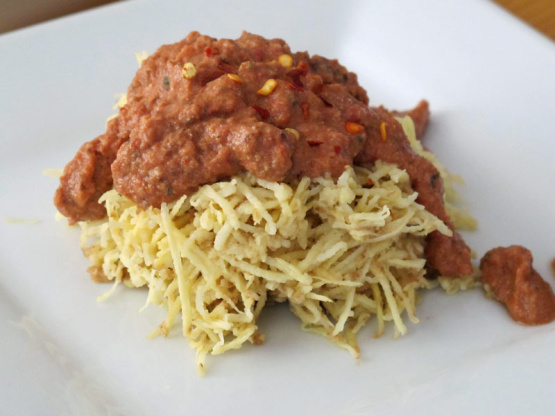 Sweet potato noodles are nothing more than finely shredded or spiralized raw sweet potato. It has the texture of shredded coconut and makes a good al dente noodle. You can also use a zester to create shorter pieces and use in place of rice. The tangy marinara in this recipe balances the starch present in the raw potato, leaving you with a taste of old-world Italy. Please visit my Web site for the complete article with photo and additional raw food recipes.

I tried this recipe as one of my first after becoming a raw foodist. It was really good! I added some fresh garlic to the marinara. The sweet potato was sweeter than I thought it would be (raw). I used some leftover marinara to eat with carrots the next day. A keeper for sure!
Place sun-dried tomatoes in warm water to start softening. Set aside. **Raw foodists take care not to use water hotter than 118 degrees.
Choose to peel the sweet potato or leave the skin on (I leave it on). Shred into lengthy strips using the small side of a standard shredder or spiralizer. Set aside.
Dry presoaked almonds (soak for 2-4 hours) with a paper towel. Place them in a blender or food processor and blend into a flour-like consistency. Add lemon juice, olive oil, and seasonings. Blend until mixed, adding a splash of water as necessary.
Chop Roma and sun-dried tomatoes and add to the sauce base. Blend into a thick, creamy marinara sauce.
Divide sweet potato noodles into two servings and top with tangy marinara sauce. Garnish with additional red pepper flakes if you wish.