Salmon With Saffron Cream Sauce
Prep 15 mins
Cook 15 mins

A variant on a recipe I found in a magazine. I was a little disappointed in the original version because the time spent versus the end result wasn't worth it. I think this was nicer and much, much quicker - so try and see if you agree ;-).
Directions
Evenly spread saffron threads at the bottom of a small glass and top with 1 teaspoon of water.
Place into a microwave oven towards the edge of the carousel with 200ml of water in a large glass at the opposite edge.
Microwave on high for 3 minutes.
WARNING - the water may be superheated - allow to rest 5 minutes before touching either glass.
Remove the small glass and transfer the saffron / remaining liquid to a small mixing bowl (or for a single serve just leave in the glass).
Mix through sour cream, lime juice and chopped chives mixing well and place in refrigerator while salmon cooks.
Rub olive oil over the salmon and sprinkle with pepper.
Cooking using your preferred techique, I grilled them on a BBQ plate over medium heat for about 7 minutes a side.
Spread (it is quite thick) mixture over the salmon and serve with your favourite salads and side-dishes.
Reviews
Most Helpful
Wow! This was such and easy, tasty and elegant dish. I made as written except for using Greek yogurt for the sour cream and definately will serve this to company! I grilled the salmon as suggested. Thank you for posting. Made for the Aussie Swap.
This is a really nice recipe. The salmon is simple and tasty with a fancy sauce to top it off! I grilled our salmon and loved the results. Next time, I think I would try either a thick yogurt or mayo instead of the sour cream. I thought the sour cream kind of overwhelmed the saffron. I loved the water/saffron technique!!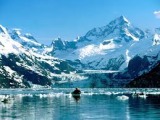 This is one of those recipes that really deserve more than 5 stars. The saffron cream makes this dish elegant and so tasty. The salmon was cooked on the grill as suggested. Greek yogurt was substituted for the sour cream. This will be made again and again. Thanks Peter for an outstanding recipe. Made for Aussie Swap.