Quick and Easy Mini Russian Pizza
Alex M.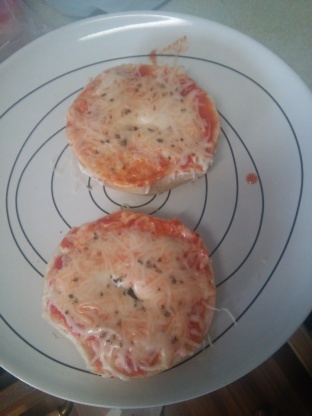 A very simple recipe I whipped up in my dorm room, transforming a bagel into a pizza using common ingredients. The tastes go well together, and it sort of resembles the pizzas served in Moscow.

I expected it to be good, because how can you go wrong with sauce and cheese?! But this was delicious! The cream cheese adds a lot, I would have never thought to put it on there! I think I will be eating this for lunch every day. I put garlic powder and oregano on top of my cheese before I cooked it. Thanks for the awesome recipe!
Cut bagel in half.
Spread both halves with cream cheese.
Spread tomato sauce over cream cheese.
Sprinkle Mozzarella cheese over sauce.
Microwave 30-45 seconds.
(Optional) Sprinkle spices over melted cheese.
Let cool; enjoy!