PaulaG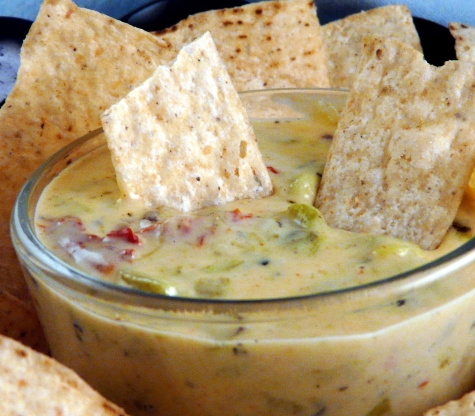 Just goes to prove that Queso can be made with almost any cheese. The important factor in making good queso is to use a processed cheese (like Velveeta) for at least one of the cheese choices. A mixture of smoked Gouda and regular Gouda is recommended and gives this a subtle smoke flavor that really adds depth. If necessary, this can be made using 8 oz of regular Gouda. Developed for RSC #11.

Loved this queso variation! I skipped the salt and pepper at the end, as we found there to be plenty of flavor without them. I used all smoked gouda for the gouda cheeses, as we just love smoked cheese, and it was perfect here. Thanks for sharing!
3

(4 ounce) canschopped green chili peppers, drained

2

shallots, peeled, chopped

1

tablespoon olive oil

2

garlic cloves, minced
3⁄4-1 1⁄4 cup milk
1⁄2 cup sun-dried tomato, minced, not oil packed

4

ounces gouda cheese, diced

4

ounces smoked gouda cheese, diced
1⁄2 cup asiago cheese, coarsely grated

8

ounces processed cheese (Velveeta, American, etc.)
1⁄4-1⁄2 teaspoon ground cayenne pepper
salt and pepper, to taste
Heat the oil in a medium size pan, saute the shallots and garlic until soft, stir in the chili peppers.
Add the milk starting with 3/4 cup and adding the additional 1/2 cup as needed for proper consistency; add tomatoes, cayenne pepper, and cheese.
Heat over low heat until cheese melts; season as desired with salt and pepper.
Serve warm with tortilla chips, hamburger patty, hamburger steak or chicken.