Petite Lasagna for 2 or 3
Lena S.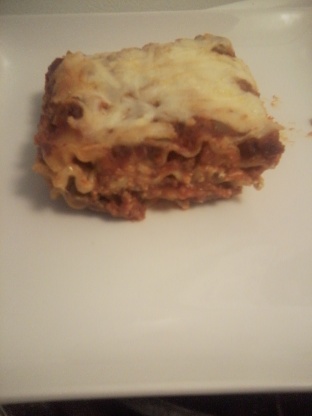 When I came upon this recipe I was very happy. I always have leftover lasagna and most of it would get thrown out. Not anymore!! With only three in this family this is perfect for us.
This was delicious! I used my toaster oven pan instead of the recommended dish. The only changes made to the recipe was using the sausage instead of beef, and I used 8 noodles (2 1/2 lengthwise for 3 layers) because of the shape of my pan. On top of the last layer of noodles was a little sauce and mozzarella, so 3 layers instead of 2. I cooked it for 35 minutes, which was just enough.
Heat oven to 350ºF.
Spray medium nonstick skillet with nonstick cooking spray. Add ground beef, onion, and bell pepper (if using).
Cook and stir until browned; drain. Reduce heat to low; stir in mushrooms and spaghetti sauce. Simmer 5 minutes, stirring occasionally.
In a small bowl, combine ricotta cheese, Parmesan cheese, parsley and egg; mix well.
Cut 1 of the lasagna noodles in half lengthwise.
Spread 1/4 cup meat mixture in bottom of ungreased 9*5-inch (2 quart) loaf baking dish.
Top with 1 1/2 lasagna noodles, 1/2 the ricotta mixture, 1/2 the remaining meat mixture and 1/2 the mozzarella cheese.
Repeat layers, starting with noodles and ending with mozzarella cheese.
Bake at 350ºF for 30 to 35 minutes or until thoroughtly heated and bubbly.