Oven Dried Jalapeno Peppers and Garlic powder
Rita1652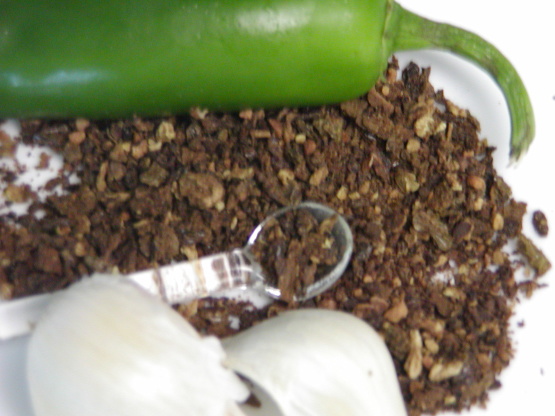 An addition of garlic to my dried peppers Oven Dried Hot Peppers-Flakes or Powder. Make your own chile powder or flakes with those extra garden peppers. Be sure to use gloves when handling hot peppers. Becareful when grinding not to get any of the pepper dust into your nose and eyes. As they dry in the oven you'll find yourself sneezing from them. Make your own chile powder with those extra garden peppers. The amount depends on how many you dry.

this recipe worked great! i have been wanting to make jalapeno powder for so long because chili powder is just not hot enough for me. the only thing that i found that you have to watch out for is after you blend them and that fine powder cloud comes out. *coughs* it got me a few times. lol thank you so much for the recipe!
as many as you have hot pepper (Cayenne, Habanaro,Thai or whatever chilies you have grown)
garlic, chopped 2 to 4 to a cup of chopped peppers
I cut them in half or even quarters so the flesh is open and drys out faster and more even.
Place peppers and garlic on a cookie sheet that has parchment paper on it.
In only one layer.
I do at 200 degrees.
Keep an eye on them and remove those that are dry as need be so they don`t burn.
It can take 1-3 hours.
Grind the pepper and garlic to make a chile powder.
Use a coffee grinder once they are cooled.
Store in a glass jar out of sunlight.