Nimz1466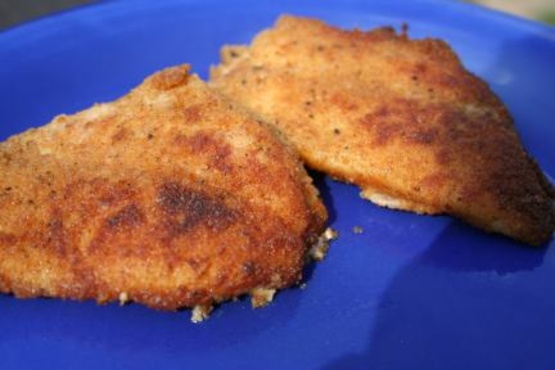 My Dad made this for me last week when I was visiting in Palm Springs. Even though I am not a fish lover, it was so good that I gobbled it up. It is easy and good for you.

This recipe was a surprise hit! I used 2 orange roughy fillets (first time cooking them), dijon mustard, panko bread crumbs and 1/2 tsp cayenne pepper. I was afraid that the mustard would be too strong, but nope! WOW! Delicious! I'm going to try it with tilapia now. Thank you and YUM!
4

orange roughy fillets

1

egg

2

tablespoons honey mustard
3⁄4 cup seasoned bread crumbs

1

teaspoon cayenne pepper

3

teaspoons olive oil
mix egg and honey mustard in medium bowl.
mix bread crumbs and cayenne in large ziplock.
dip fillets in egg mixture then toss in bread crumb.
place in refrige for 1/2 hour so crumbs adhere.
heat oil in large pan and cook about 4-5 min per side (depending on how thick).