No-Bake Banana Peanut Butter Fudge Bars
MA HIKER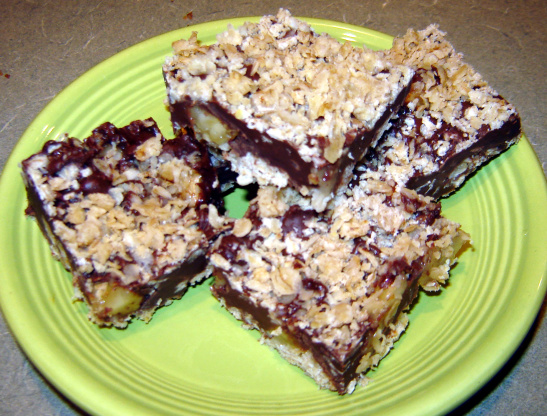 My neighbor gave me this recipe. She found it on a Dole website. Haven't tried it yet but it sounds tasty!

These taste delicious! My only criticism is that the oat layers are very crumbly and not very flavorful. I would perhaps try adding a bit of brown sugar when I melt the butter to see if that helps it adhere better and have a nicer taste. The banana PB fudge layer has a lot of wonderful taste which does balance out the oats layer. Thanks for the post.
Finely chopped banana (1-1/4 cups).
Melt butter in large skillet over medium heat; stir in vanilla.
Add oats and brown sugar.
Heat and stir 5 minutes.
Set aside 3/4 cup oat mixture.
Press remaining oat mixture into greased 9-inch square baking pan.
Sprinkle banana over crust.
Melt chocolate chips and peanut butter together over low heat.
Pour and spread over banana.
Sprinkle with reserved oat mixture; press down lightly.
Chill 2 hours before cutting.
Store in refrigerator.