Nif's Nothing Fancy Meatloaf
AZPARZYCH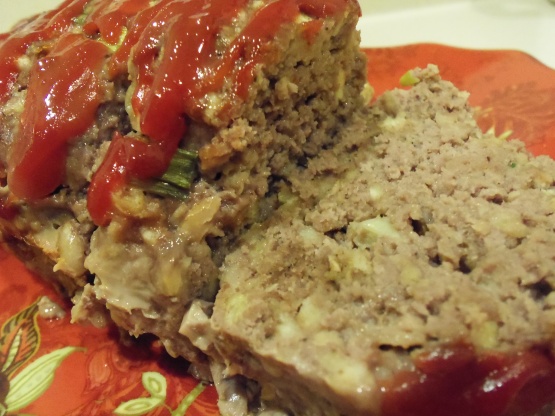 Just a basic meatloaf recipe that my family happens to really enjoy. If you don't have green onions (they do add a great flavour), or your kids pick out the green pieces, you can substitute them with 1/2 medium onion, chopped. I'm not a huge fan of ketchup, but you can add it on top if you want to. Make these in a muffin tin if you want to get your kids more interested. Served with mashed potatoes and a veggie, it's a simple, tasty meal. These aren't huge portions so you might want to double the recipe. The leftovers will freeze very well. Enjoy!

Just the way DH likes his meatloaf. I liked the hint of worcestershire sauce and would add a little more next time. DH won't eat onions so I used a little granulated onion powder- don't tell him :) Made for Family Picks ZWT6.
Mix all ingredients in a bowl; get your hands in there!
Spray a loaf pan with nonstick cooking spray; place mixture in pan.
Bake at 350 degrees Fahrenheit for 45 minutes to 1 hour or until internal temperature reaches 170 degrees Fahrenheit.
If you choose to make these in a muffin tin, they will cook quicker so be sure to use a thermometer.