Low Carb Spinach-Cheese "bread"
Pdorf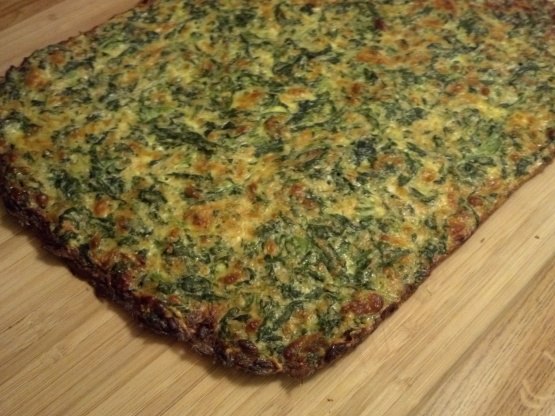 Makes a great sandwich wrapper. Make thick or thin, depending on your desires. Stays flexible, yet is sturdy enough to stand up to fillings. Add herbs or spices to vary the flavor - caraway seeds give the illusion of a rye type bread. My favorite way is to make thin for a wrap, seasoned with some garlic and cayenne pepper.

Just made this but I replaced the mozzarella cheese with 1/2 freshly grated sharp cheddar and 1/2 grated parmesan (not the stuff from the can) in addition to the stuff in the can. I also added sun dried tomatoes. When I first took it off the parchment paper, I let it cool on a rack and then cut it into four squares, all the while I was a bit apprehensive. Oh. My. God. I just had a bacon, lettuce and turkey sandwich on it. Seriously, it tasted like italian focaccia bread!! This is my new go-to bread!! I found a similar recipe (without spinach) for pizza on this site that was nowhere in the same galaxy as this!! This is NOT eggy at all. Bet if you got sick of spinach you could use grated eggplant or summer squash too! Wonder what would happen if you put a little baking powder and a scoop of either whey protein isolate or almond flour in? Tell you what, I'll try it this week and let you know. Thanks for a GREAT recipe!!
Thaw spinach, then squeeze out as much liquid as you can. Place the dry spinach in a bowl and break up into small clumps.
Preheat oven to 350. Line a baking sheet or pan with parchment paper, or spray well with non-stick spray.
Add remaining ingredients to spinach and stir to break up the spinach into small pieces and combine the ingredients well.
Spread batter evenly into prepared baking pan.
Bake about 20 minutes, or until dry and turning golden brown.
Remove from oven, loosen from parchment paper, let cool. Cut into desired serving sized pieces.
I usually use a cookie sheet that measures 10x13, the batter spreads out to about 1/4 inch in this pan. When it is cooked it makes a thickish wrapper that can be rolled up around whatever ingredients. You can use a smaller pan to have thicker "bread" if desired.
Keeps well in a plastic bag for a couple of days. I have never had enough to last longer than that, it usually gets eaten by the second day.