Auburney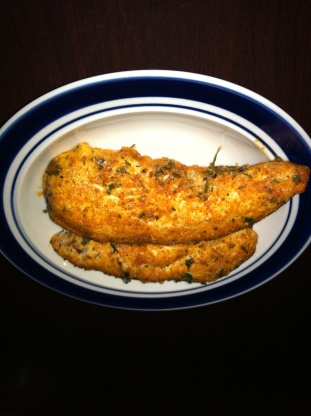 I was looking for a healthy, low carb & tasty chicken dish & found this one on a low carb website. We re-named it "healthy" chicken b/c my 7 & 4 year old kids think they will run faster if they eat healthy things....and because really-it is! The chicken was very moist, tender & had a great taste! Everyone liked it so we're keeping it safe here!

I followed the recipe for dinner tonight with excellent results. Substituted EVVO for Pam Spray, served it over roasted veggies (fennel, onion, carrots, Italian parsley). Went light on the salt, cheese, eliminated seasoned salt, which I replaced with a salt free Paul Prudhomme herb mixture. Roast veggies, which have been coated with EVVO, in 350 degree oven. Place coated chicken tenders on top of the veggies, continue to bake for another 30 minutes. If you like gravy, scrape the pan, add salt free chicken broth, thicken. Chicken is unbelievably tender and juicy.
Preheat oven to 350 degrees.
Combine all dry ingredients.
Line cookie sheet with foil.
Spray each chicken tender with butter spray and dip in seasoned dry ingredients.
Bake on lined cookie sheet for 20-30 minutes.