Prep 20 mins
Cook 12 mins

This is a recipe that I developed from a mixture of recipes, adapting to our tastes. I hope you enjoy it :) Time to make doesn't include time to marinate. Cooking time is an estimate, depending on how hot your grill is and how big your chicken cubes are. :)
Directions
Clean your chicken, and cut it into cubes for threading on skewers.
Take a fork and prick the chicken many times.
Put lemon juice in bowl with chicken, stir well, and set it aside.
In a large bowl, mix yogurt, garlic, ginger, cumin, turmeric, cayenne, salt and pepper.
Place the chicken in the bowl with the marinade, and marinate for at least 2 hours, preferably 4-6 hours.
Thread chicken onto skewers.
Heat your grill with a nice flame and place chicken skewers on the grill.
Brush with butter or olive oil, and grill approximately 6 minutes on each side, or until done, having nice grill/char markiings.
Once you have grilled one side for 6 minutes, turn them over and brush with butter or olive oil, and grill 6 more minutes or until done.
Serve with lime wedges on the side for squirting on chicken pieces; YUM!
Reviews
Most Helpful
Made this today and it was very yummy. Nice mix of flavors. Also very simple to make. I only used 1/4 teaspoon cayenne and that was plenty of spice for us.
I loved this recipe! What great flavor. I did not have yogurt so I used some sour cream and it didn't seem to affect thet taste at all. I will definitely make this one again. Thanks for posting.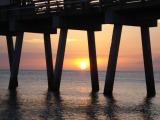 Great recipe! Fixed this last nite on the grill and we loved it. I used more cayenne than called for...used 2 Tablespoons and I also sprinkle more cayenne on right before I brushed with olive oil. I did not use the tumeric. Loved it sprinkled with lime juice while eating and we also used blue cheese dressing to dip it in. Thanks for the recipe.