Five-spice Chicken Noodle Soup
Eris4752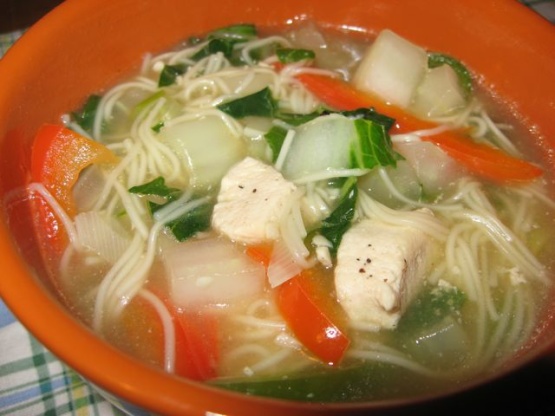 Try this spicy Asian-inspired take on the traditional soothing chicken noodle soup. Recipe comes from Better Homes and Gardens.

Top Review by Danzy
I really love this soup. It is really easy to make but I made it a little more work for me because I made my own chicken broth. I also added cremini (sp?) mushrooms just because I like them. Hubby adds some hot sauce to his bowl but I like it fine without.
In a large saucepan combine water, chicken broth, green onions, soy sauce, garlic, five-spice powder, and ginger; bring to boiling.
Stir in bok choy, sweet pepper strips, and noodles; return to boiling, reduce heat; boil gently, uncovered, 3 to 5 minutes or until noodles are tender,.
Stir in chicken, heat through and Serve.