Ms B.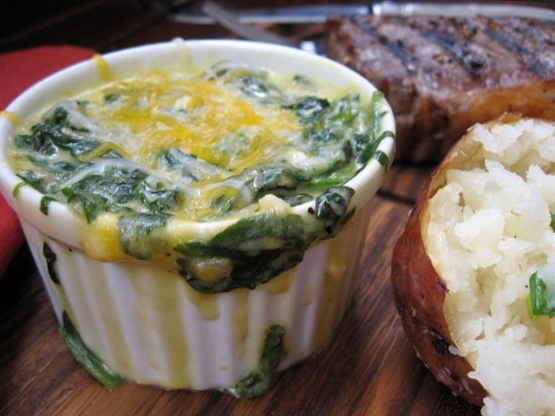 I saw this recipe on Food TV's web site and had to try it. I love his recipes and this one is no exception. I make it several times a year.

Mysterygirl- Thansk for sharing. How can you go wrong with heavy cream, garlic and butter?!? Did have to really drain the spinach so as not to dilute the heavenly base.
Preheat the oven to 375 degrees.
Lightly grease a 6 cup casserole.
In a large saute pan, melt the remaining butter.
Add the onions and season with salt and pepper.
Saute for about 2 minutes, or until the onions are soft.
Add the spinach.
Season with salt and pepper.
Saute for 3 to 4 minutes.
Add the garlic and cream.
Mix well.
Season the mixture with salt and pepper.
Bring the liquid to a boil and reduce to a simmer.
Simmer the mixture for 6 minutes.
Remove the pan from the heat and turn into the prepared pan.
Add 1/2 of cheese to casserole and stir.
Sprinkle the top with the remainder of the grated cheese and place in the oven.
Bake for about 4 to 6 minutes or until the cheese is slightly brown and bubbly.