Danish "Brun Kager" Brown Cookies
Lille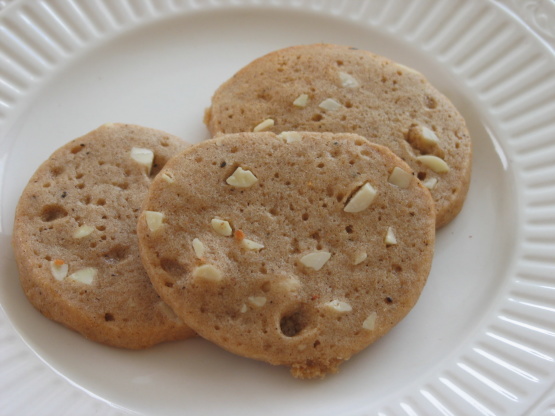 Traditional Danish Christmas cookie. They have a wonderful spicy flavor that stays with you long after you eat it - It's the taste of Christmas to me. Sometimes it is tricky to slice the cookies, especially if you did not wrap & seal them well, then they tend to crumble. Seal them well and leave them 2 weeks in the fridge and you shouldn't have any trouble

To be fair, I have not tried this recipe. It may taste terrific. I am from Danish stock - my father is Danish - and I have baked my grandmother's brown cookie recipe for years. You simply can't use corn syrup in a recipe like this and call it traditional. It's not. Traditional calls for a combination of molasses and brown sugar.
Melt the butter, sugar& corn syrup together.
Sift dry ingredients and add to melted mixture.
Form into 2 or 3 rolls, about 2" high, wrap in plastic so the rolls are completely sealed and chill in the refrigerator for at least a week, 2 weeks is better Slice thinly and place on a buttered cookie sheet (Just over a 1/4").
Bake in moderate oven 375f for 5-7 minutes.