Crock Pot Hawaiian Chicken
Pamela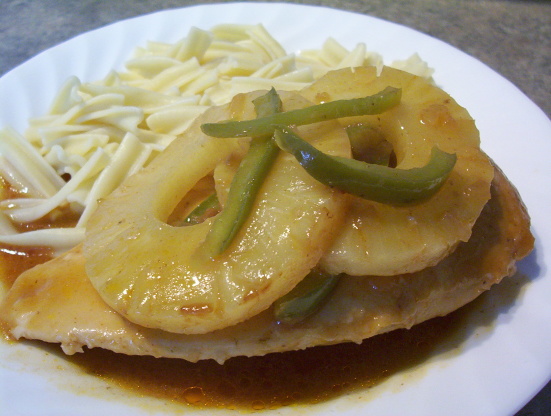 The creamy French salad dressing really compliments this dish. A very nice touch to the chicken. Try it...so easy and a wonderful flavor. Serve this with brown rice....DELICIOUS!!!

I have a house full of picky eaters, but this recipe still earned an overall 4 star rating from them!!! I cooked the chicken (used 4 thighs) in an electric roaster because my crockpot was too small for the job. I also added 1/3 cup brown sugar, and cooked at 325* for about 1 1/2 hours. Next time I will let the chicken marinate since the roaster cooks more quickly. Lots of flavor and easy to make. When I asked "should I make this again?", I got a unanimous "YES"! Definite keeper!
Place the chicken in crock pot.
In a bowl, combine the pineapple juice, salad dressing, onion soup mix and lemon peel.
Pour over the chicken.
Cover and cook on low for 6-7 hours or on high for 3 to 4 hours.
Twenty minutes before serving, arrange pineapple slices and green pepper strips over chicken to heat through.
Arrange chicken, pineapple and green pepper on large serving platter.
If desired, thicken juices with 1 tablespoon cornstarch dissolved in 1 tablespoon water.
Stir slowly into juices until thickened slightly.
Pour over chicken.