Cranberry Salad (A.k.a. Thanksgiving Pink Stuff)
PanNan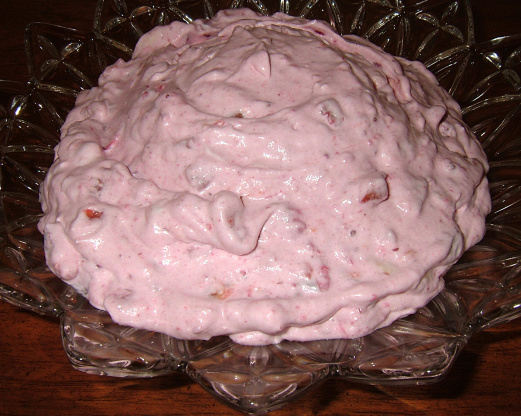 My mother got this recipe from a dear family friend in the 1950's. No matter who in our family is making Thanksgiving dinner, you can bet this dish will be served. Note: the times indicated do not include refrigeration time. Cranberries from Wisconsin make this a Midwest U.S. regional recipe. (Also, I first enjoyed it in Missour - another fine Midwestern state).
The day before serving, cook cranberries in water over low heat until soft.
Add sugar and mash.
Add chopped nuts.
Stir, cover and refrigerate overnight.
About 4 hours before serving, add the fruit cocktail.
Just before serving, whip cream, add sugar and vanilla and whip until soft peaks form.
Add bananas to fruit mixture.
Gently fold whipped cream into fruit mixture until well blended.
Serve immediately.
Note: You can use Cool Whip instead of whipping the cream, but the flavor is so much better with the real thing!