SwedishExpat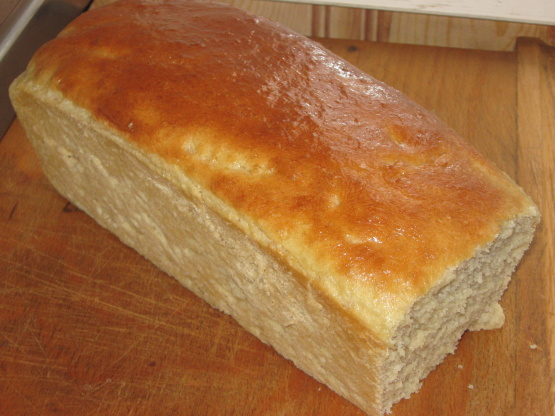 I usually make my favorite (Our Favorite Wheat Bread) but when I make white I use this recipe. I really like the color and flavor the eggs add to it. It makes excellent toast too.

And yet another addition. This time, I made a sponge first of the water, the yeast & some flour and sugar. Let it sit out for about 2 hours. Then continued with the recipe.It's fantastic! Even the last time I made this bread, I forgot the oil and it still turned out great. I think, for me anyway, it is a great, foolproof recipe ;) ********************************************* I had to add to my last review, as I just made this bread again. I think it's just a matter of personal tastes; our family prefers a less yeasty bread. This one fits the bill perfectly, we LOVE IT! I wish I could give it more stars, though ;) Thanks again, Marg! Absolutely wonderful! I used half milk, half water and sunflower oil. Because the amount of the flour was not exact, I used 6 cups of flour in the recipe and a half cup on the board for kneading. I followed Marg's tip on adding a pinch of sugar and waiting for the yeast to foam. I loved the idea to mix half the flour with the other ingredients until smooth, then hand mixed the rest of the flour. This bread is a combination of slight richness because of the eggs, yet light and lovely to the palate! I actually used this recipe for calzones and the rest I separated into 4 portions & froze for pizza dough. Thanks so much, it will be my regular recipe now! :)
Dissolve yeast in water in large bowl. (I usually add a pinch of sugar and wait for the yeast to foam but the original recipe didn't call for this step.).
Add next 4 ingredients and 3 cups flour; beat until smooth.
Stir in remaining flour.
Knead 6-8 minutes.
Let rise in greased bowl until double.
Divide into 3 loaves; let raise again.
Bake at 375°F for 25-30 minutes.