Cinnabon's Cinnamon Roll Clone
Juenessa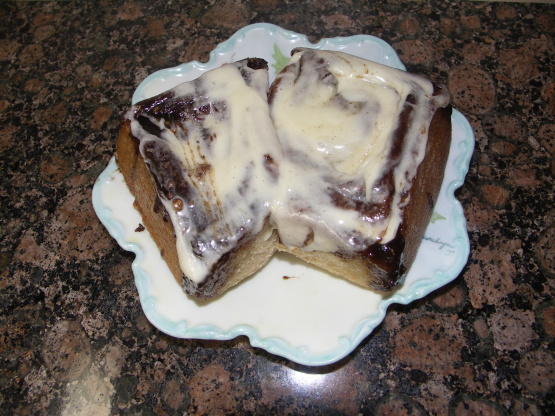 This is supposed to be Jerilyn Brusseau's "real" recipe for the famous Cinnabon cinnamon rolls.

This is a great recipe! I used to make these all the time,after rolling out and adding filling.Roll up and cut ( with dental floss) . Then spray a cooking sheet with non-stick oil, arrange slices on sheet,put in freezer.When frozen solid take off sheet and put them in a Ziploc bag.Freeze.

Make icing and freeze in small Ziploc bowls.

The night before you want the rolls in the am,spray a pan put in amount of rolls you want.Cover with sprayed plastic wrap.Set out that night,in the am they will have risen.Put a container of icing in the fridge the night before.

That am when you get up preheat oven,then while you are dressing the smell of Cinnamon Rolls fills the house...yummmmm! After baking ,let sit for a minute than cover with icing.

Make once and enjoy these anytime!
Combine water, yeast and sugar in large mixing bowl; let stand 5 minutes.
Add butter to cooling milk to soften.
When cool, add milk mixture to yeast mixture and stir well.
Add eggs and salt and stir again.
Add all-purpose flour; mix well.
Add raisins.
Add 2 1/2 cups of the whole wheat pastry flour.
Mix until dough is quite sticky and begins to leave sides of bowl.
Sprinkle 1/2 cup of remaining whole wheat pastry flour onto board.
Knead dough about 10 minutes until dough is smooth, adding more flour if needed. (Dough should still be soft and almost sticky.)
Shape dough into a ball and place in large greased bowl, turning to grease top.
Cover with damp towel and let rise until double in bulk, about 45 minutes.
Turn dough onto large floured board.
Roll out into a 24 x 20-inch rectangle. (Dough will be thin).
Filling: Mix together melted butter, brown sugar and cinnamon.
Spread entire rectangle of dough with mixture.
Sprinkle with walnuts.
Roll rectangle tightly from long side.
Make sure you end with seam side on bottom.
Shape with hands to make uniform in size from end to end.
With very sharp knife (or a long piece of dental floss) cut roll into 16 equal slices.
Place side by side in two well greased 13 x 9 x 3-inch metal baking pans.
Cover with warm, damp towel and let rise in warm place for 30 to 40 minutes until almost doubled in size.
Bake at 350°F until nicely browned and filling is bubbly, about 35 minutes.
When you remove from oven, invert onto serving platter or baking sheet to allow syrup to drip from pan onto rolls.