PaulaG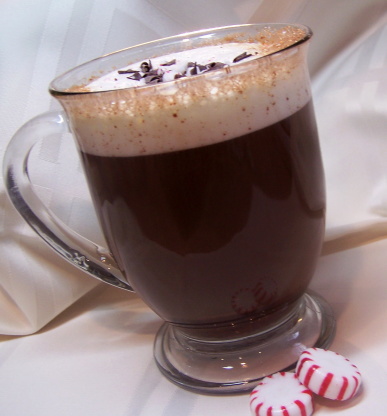 This is lovely to enjoy after a day of Christmas shopping and snowman building. Chocolate and peppermint? yummm

I made this as an indulgent breakfast treat for myself today. I used a couple of drop of peppermint extract instead of the crushed candies and just sweetened to taste.
1⁄2 cup whipping cream

3

tablespoons powdered sugar
1⁄2 cup finely chopped semisweet chocolate or 1⁄2 cup finely chopped milk chocolate
1⁄2 cup crushed striped round peppermint candy

8

cups hot espresso or 8 cups very strong coffee
Beat the whipping cream and powdered sugar with an electric mixer on low speed until soft peaks form; set aside.
Spoon 1 tablespoon each chopped chocolate and peppermint candies into a coffee cup. Add hot espresso. Top with the whipped cream and chocolate curls. Serve at once. Makes 8 servings.