flower7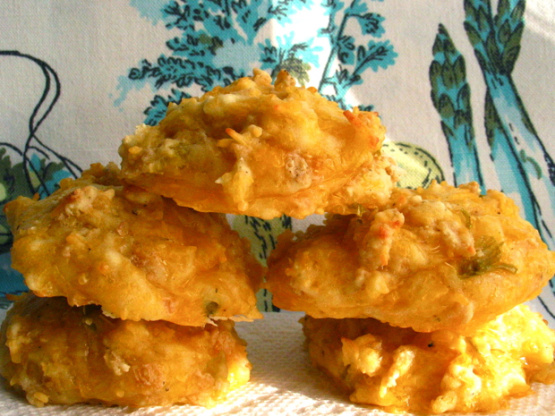 Very nice as a quick snack or to serve with soup. They are mild spicy and you can spice them up by adding some ground cayenne or chilipepper. The original recipe uses fresh chillies but the canned ones make these puffs more moist. If you want to make them with fresh, use 2 green chillies, seeds removed and finely chopped.

These are very tasty! I will add a little more salt next time (I used 1/4 tsp this time). The only change I made was adding a grind of fresh black pepper (will add more of that next time too). Used skim milk and 2% cheese with much success.
~Made in loving memory of Annelies~
Preheat oven to 375°F.
Mix together in a bowl: egg, milk, salt (if using) cheese and the drained chillies.
Sift the flour together with the baking powder over the bowl and mix well.
Now add the rice krispies, and mix again.
Place rounded teaspoons on greased but better still, lined with parchment paper, baking trays and bake for 10 to 12 minutes.