Chicken and Couscous Soup
MsPia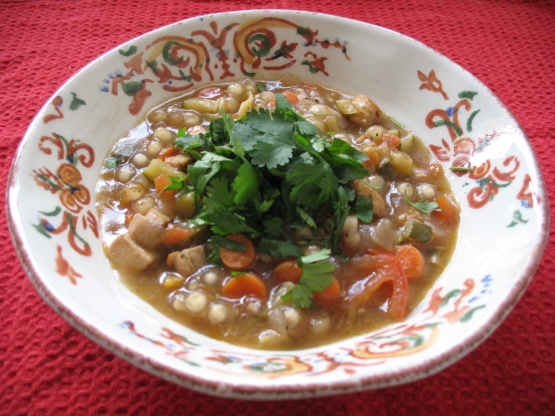 A hearty Moroccan soup from one of my favourite Aussie magazines - recipe adapted to suit my family.
Heat oil in a large saucepan on high.
Cook the chicken in batches until golden.Remove and set aside.
Add carrots and leeks to same pan,reduce heat to medium and cook for 5 minutes.
Stir in the seasoning and cumin. Return chicken to pan and add stock and tomatoes. Bring to boil then reduce heat.
Stir in pumpkin and simmer for 5 minutes or until pumpkin is tender. Add zucchini and zest,season to taste and simmer further 5 minutes.
Place the couscous in a bowl and add boiling water. Cover with plastic wrap and stand for 5 minutes,then fluff with a fork.
Divide couscous between serving bowls and ladle in the soup.
Serve topped with the chopped coriander and chilli slices.
NOTE: Moroccan Seasoning recipe#141053 is a good substitute if commercial Moroccan Seasoning is unavailable.