Bananas Foster Ice Cream Cake
eabeler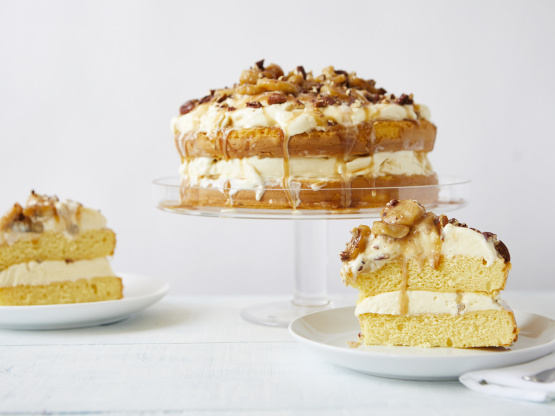 This recipe was adapted from "Taste of the South Magazine 2006". I made this for my husband's birthday, and it was a hit with both adults and kids. This cake has alternating layers of butter cake, vanilla ice cream, cinnamon-caramel sauce, toasted pecans and is topped with bananas in cinnamon-caramel sauce. This is a decadent dessert that takes time to prepare but is so worth every minute. (Note: Preparation time includes time needed for cakes to cool and ice cream to harden between layers and atop the cake.)
Very good, but so difficult to make! My cake definitely didn't turn out looking like the photo- instead, it looked like a giant mound of ice cream mixed with a whole bunch of stuff. The ice cream was difficult to work with when firm, and so very messy when softened. Maybe I shouldn't have tried such a daunting recipe for my first ice cream cake! The cake tasted great though- like a banana sundae in cake form.
1

(18 1/4 ounce) package butter recipe cake mix (I used Duncan Hines Classic Butter Golden Cake Mix)

3

eggs, large
1⁄2 cup butter, softened
1⁄2 cup water
1⁄2 cup pecans, chopped (toasted)
1⁄2 gallon vanilla ice cream, softened

3

bananas (under-ripe, peeled and cut into 1/4-inch slices)

2

tablespoons butter

1

(12 1/4 ounce) jar caramel ice cream topping (I used Smucker's)
1⁄2 teaspoon cinnamon, ground
Preheat oven to 350°F Spray two 8-inch round cake tins with cooking oil. Flour lightly.
In a medium mixing bowl, mix together cake mix, water, 1/2 cup softened butter and eggs at low speed. Then beat at medium speed for 4 minutes. Pour batter evenly into pans and bake for 22-25 minutes or until a toothpick inserted into the center of each cake comes out clean. Cool in pan on wire rack for 30 minutes. Then place cakes in the freezer until ready to assemble.
Toast chopped pecans on a baking sheet in the oven for 8-10 minutes or until fragrant and lightly browned. Set aside to cool.
Pour caramel ice cream topping into a small bowl. Add 1/2 teaspoons cinnamon and whisk until fully incorporated. Set aside. Reserve remaining caramel sauce for drizzling the cake later.
In a large skillet over medium-high heat, melt 2 tbs. butter. Once the butter begins to bubble slightly, add sliced bananas. Saute for 2 minutes. Then add half of the caramel sauce mixture, stir until bubbling, remove from heat and set aside to cool for 15 minutes. Refrigerate until ready to place atop the cake.
To assemble, place one cake layer onto a cake plate. Top with half the ice cream, making sure to leave at least 1/4 inch of space around the edge of the cake (to allow for melting and settling). Sprinkle with toasted pecans and drizzle with reserved caramel sauce.
Return both ice-cream-topped cake and ice cream carton to freezer for 30 minutes. Then add second layer of cake, top with ice cream and sprinkle with pecans.
To finish off, place bananas in a mound atop the cake. Drizzle around the edges of the cake with remaining caramel sauce and sprinkle with remaining pecans.
Freeze for 2-4 hours or until ready to serve. If the cake is frozen-hard, allow to sit at room temperature for 5-8 minutes or until softened to your liking.
Freeze any remaining cake.