I used my daughter's recipe with some modifications. For those who don't really fancy the taste of fish, this recipe will cure you of that. It is light and no overpowering fishy taste. Serve with rice and a vegetable of your choice (we like it with steamed broccoli).
Directions
Preheat oven to 375°F.
Pour 1 Tbsp of olive oil evenly in the bottom of a 9x9-inch glass baking dish.
Place the fillets in the bottom of the baking dish.
Pour the remaining olive oil over the fillets.
Sprinkle half of the garlic over the fillets.
Sprinkle the bread crumbs over the fillets.
Sprinkle the cheese over the fillets.
Bake for approximately 18 to 20 minutes making sure not to over bake.
Squeeze the juice of a lemon quarter over each fillet (optional).
Reviews
Most Helpful
This was super easy and very tasty! And while I did use garlic salt instead of the garlic powder, next time I would use between 1/2 and 3/4 tsp instead of the full tsp. This is a keeper! Thanks!

This was very easy and yummy. I use some wild salmon fillets from Trader Joes. I think next time I will leave off the lemon juice...just didn't appeal to me on this dish, and add some salt to the fish, or use garlic salt. With those changes, it's a repeat in my cookbook. Thanks for an easy meal!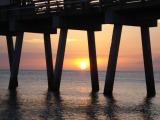 My husband and I really enjoy this recipe! Simple to make and tastes fabulous! This was my first time cooking fresh salmon and I will definately be making this one again!
More Seafood Recipes >