Jubes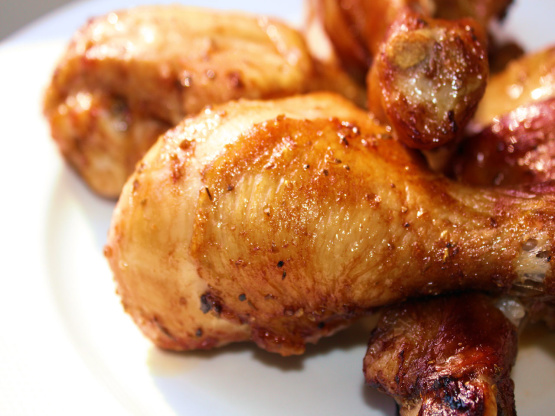 Prepare the marinade in 5 minutes, marinate 2 hours and then into the oven to bake – too easy! For a budget friendly family meal for 4, serve with chips, a simple salad on vegetables on the side. Preparation time does not include the two hours marinating time required. You can use a large Ziploc bag for the marinade to save on washing up if you wish to. This recipe was made using competition ingredients for Dining on a Dollar comp. For a great home-made ponzu sauce - see Homemade Ponzu Sauce #487741 (You could just make up the small amount as used in this recipe) Alternatively, I think a blend of soy sauce and lime juice would work well

Love the balance of flavours. I made half a batch, but used the full amount of ponzu sauce. Served with baked potatoes, roasted tomatoes and a green salad. Good luck in the contest.
Combine all of the marinade ingredients in a large bowl (the bowl must be able to hold all 8 drumsticks).
Add the drumsticks and ensure thoroughly coated in the marinade. Cover the bowl with plastic wrap and refrigerate for 2 hours.
Preheat oven to 375°F (190°C ).
Place chicken drumsticks in a single layer on a baking tray and bake for 40 minutes. Depending on the size of the drumstick, they may need a little longer.
Allow to rest for 5 minutes before serving .