Authentic Upstate Spiedies.
simset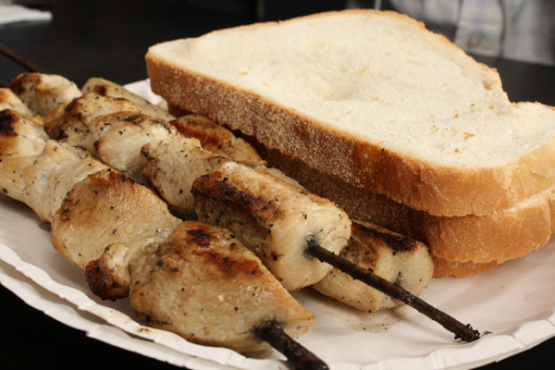 Way back in Upstate New York, in a small shoe town called Endicott, we have a regional "Kabob" style sandwich, called spiedies. If you have never tried one, your mouth is going to thank you. I have seen a lot a recipes trying to duplicate the variety sold at a local culinary pit stop called Lupo's. Some have come close, some miss by a mile. I think this one is the closest I have tried in long time. Originally they were marinated with lamb or pork. Chicken is my favorite. You will love them, or else Uncle Guido will have to talk to you.
I grew up in the Triple Cities. There is a place where my mom and dad would take us for spiedies after choir practice at the Holy Spirit Byzantine Catholic church. In the snow or heat, we went to places, some in Vestal, Endwell, Endicott or Binghamton. Eventually mom would marinate the meat in Salamida's sauce. Even here in Tennessee I have been able to find the Salamida "State Fair" Spiedie sauce. The recipe here is a good one, though. Be sure to get good Italian bread to slice yourself for the spiedie.
Dice chicken breasts into 1" cubes.
Blend the olive oil, lemon juice, vinegar or wine, garlic, parsley, basil, oregano, garlic salt, crushed mint leaf, salt and pepper in a bowl.
Add chicken to the marinade, stirring. I like to bag it in zip lock bags (I always make a double batch so I can freeze some).
This needs to marinate at least 24 hrs in the refrigerator. The acid content of the marinade tenderizes the chicken by "cooking" it to a degree.
Skewer the meat on kabob sticks; grill until firm.
Serve on sliced Italian bread, and God bless you if you can get Romas from upstate NY or Raliegh NC.