PaulaG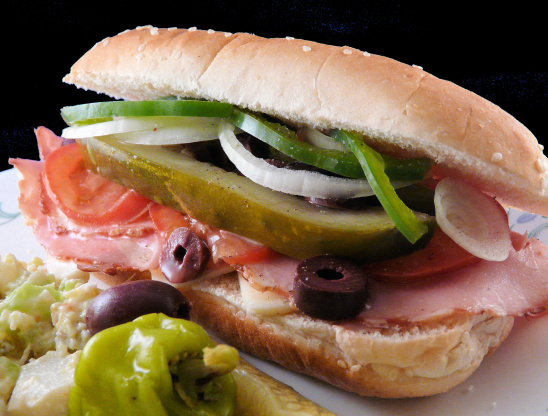 Why these sandwiches are called Italians is a mystery to me since not one thing on them is Italian. But here in Maine you can go to any little general store or sandwich shop and get an Italian. Ham is the original, but other meats can be substituted (you have to specify like roast beef italian). Amato's is a sandwich shop up here that boasts the "Home of the Real Maine Italian".

No Vinegar in a real Maine Italian - just SOUR pickles to give that mouth puckering sourness. The Italian Sandwich is not called Italian from it's ingredients it's called the Italian from the Italian immigrants who invented it and made it in a little shop in Portland, ME. Hope that clears up the mystery as to why it is called the Italian sandwich. Enjoy
Cut sub rolls in half, but not completely through.
Layer cheese and ham on each of the rolls.
Top with sliced pickles, tomato, olives, onion, and green pepper.
Drizzle each sandwich with oil and vinegar and sprinkle with salt and pepper.
Enjoy!