KFC Twisters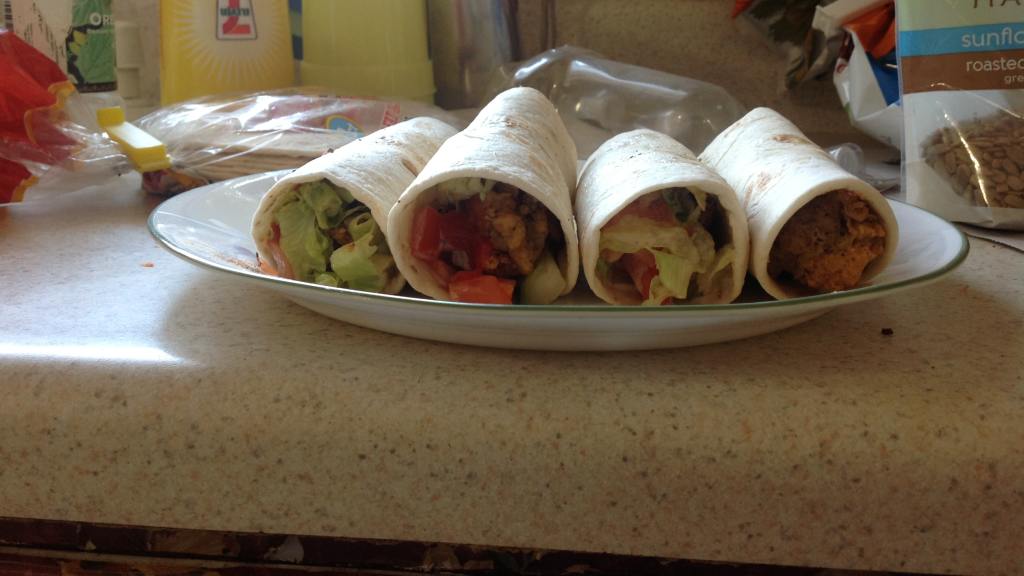 Ready In:

1hr

Serves:

Units:
Nutrition Information
directions
Trim any excess skin or fat from the chicken breasts.
Slice the chicken breasts into nice size strips (approximately 1/2 inch x 3-4 inches).
Combine the water, salt and MSG for the marinade in a large bowl and place chicken in to set for 20 minutes.
Turn the strips once while they are marinating.
Combine the beaten egg and milk and a bit of pepper in a medium size bowl.
In a small plastic bag combine the remaining ingredients (flour, salt, pepper, paprika, Mexican chille and MSG) and shake.
At this time you can start to preheat the oil in a deep-fryer to 220 deg.
When the chicken has been marinating for 20 minutes, transfer each piece to paper towels so that excess liquid can drain off.
Using about ten strips at once, place the chicken in the bag with the flouer and shake the bag until the strips of chicken are coated.
Place them on a plate.
Once they have been coated with the flour mixture dip them in the egg and milk mixture individualy and them back into the bag for another shake.
Be sure to try and get as much coating on each strip.
If you wish you can coat them again if you want a thicker coating.
Drop the strips, 5-6 at a time into the hot oil.
They should only take a couple of minutes depending on how you like your chicken.
Be sure to stir when frying so the strips don't stick together.
Remove the chicken from the oil and allow them to drain on paper towels for a couple of minutes.
Heat the tortilla bread in a frying pan on each side until it is nice and warm but not crispy, then remove from the pan.
Place about 3-4 (depending on size) krispy strips on the tortilla bread.
Then add the tomato and mayonnaise.
Put plenty of pepper and salt on the mayonnaise.
Then add the lettuce.
Roll up and serve.
Submit a Recipe Correction
Join The Conversation
This recipe is even better than the KFC Twisters in Canada! The only problem that I encountered was the temp. of the oil. Tried it at 220C and the first batch burnt (my husband got those). 220F made them too soggy(I got those). 325F worked perfectly (the children got those) Although we all love the wraps, I am often asked to just make the chicken for my teeagers. Wonderful recipe Ben Ross and thank you

Tastes great just like KFC!My kitchen got a bit messy though during the prep time & since I double coated them the chicken strips mixt got stuck like a bunch that it took me time to pry them out.10 strips at a time would take too long,so I placed alot.oops! and since we had no tortillas,we used bread in the meantime.So filling!Hubby & I cld only eat 2 sandwiches.Next time I'll try it w/ tortillas.The chicken itself is so great you could eat it as is w/ matching mashed potatoes and gravy. As A KFC fan,w/o KFC outlets where I'm at right now,this was such a treat!I even cooked this recipe more than once.It's also so good that I just had to share the recipe w/ my mom for my small nieces.Thanks!