Meet the Gingerbread Castle of Your Holiday Dreams
Wander the spice-scented walkways of this epic gingerbread construction from one of our favorite bakers.
Can you smell it? That familiar scent of cinnamon, ginger and allspice has started wafting through kitchens everywhere, signaling the start of the holiday baking season. Soon, gingerbread men and women will be waltzing through the gumdrop-lined hallways of gingerbread houses across the country — but have you ever considered what else that classic spicy cookie dough can achieve?

To answer that question, we tapped our favorite Sorceress of Sweets, Christine McConnell, who has a knack for defying baked expectations. Armed with a mammoth-sized batch of gingerbread and a generous dose of patience, she's taken edible architecture to soaring new heights, creating a multi-tiered gingerbread castle complete with snow-capped turrets, candy glass windows and garlands of frosted greenery. As if that wasn't impressive enough, she's given her castle a gaggle of naughty and nice inhabitants as well, all infused with her signature sense of whimsy (and a hint of dark humor).

Discover how McConnell brings these skyscraping sweets to life in her own words below — and prepare to be floored.
get the Food.com app.
Watch on your iPhone, iPad, Apple TV, Android, Roku, or Fire TV.
Learn More
Gingerbread Castle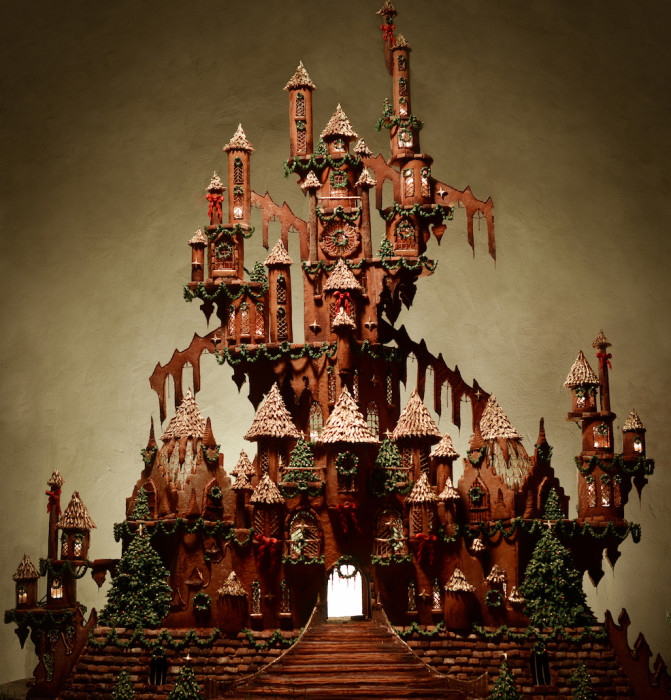 Figuring out what you're good at is one of the best things in life, but it's also just the beginning of the adventure. For me, it started out with learning to bake and discovering how much fun it is. I try really hard to constantly improve and get better at the things I enjoy. I think building with gingerbread is my favorite medium because it's versatile, sturdy and the possibilities are endless. I also learn a ton every time I make something new!

Candy Glass Windows
With the last gingerbread house I made, I taught myself how to create inlaid candy glass windows (instructions here) that look just like the real thing.

Gingerbread Doorway
While making this castle, I also discovered that you can use a Dremel tool to perfect the edges of gingerbread — and that height is only limited by your imagination. I hope the things I've learned help you create some holiday magic in your own life! Get the Gingerbread Castle recipe.

Chocolate-Peppermint Reindeer Cake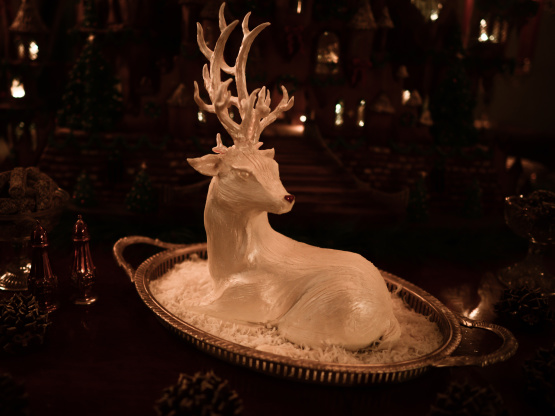 For me, chocolate and peppermint combined is where it's at! This recipe combines my favorite boiled water chocolate cake recipe with a new holiday twist. Resting stag sculptures are a common decoration during the holidays and they run the gamut in styles, from elaborate to primitive. This cake is somewhere in the middle and was completed in an afternoon, to give you a sense of how simple it can be. If you don't have a lot of experience sculpting cakes, I think this is a great place to start. And what better time of year than now for chocolate, peppermint and reindeer? Get the recipe.

Shortbread Christmas Tree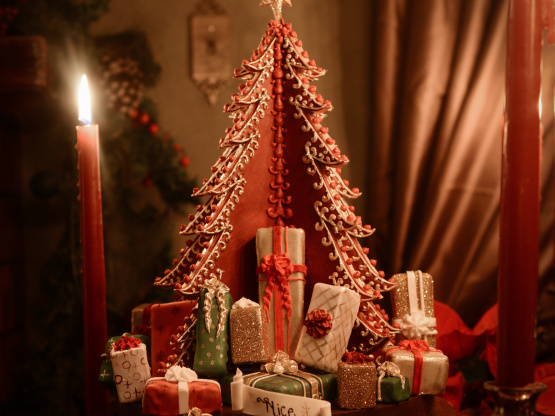 The best thing about Christmas cookies? There's always something new to try. Lately, I've been having a lot of fun with cookie sculpting and quickly learned how to simplify the process. This recipe is wonderful because shortbread is incredible sturdy and bakes very predictably, so goofs and mishaps are hard to come by. This edible Christmas tree is a great recipe to make with kids! Get the recipe.

Grandma Millie's Fudge & Eggnog Fudge
This walnut fudge recipe is actually the first I've ever baked in my life! When I was six years old, I assisted my grandma in making a batch in her beautiful cottage-style home. It was the first and last time I ever got to bake with her, as she passed when I was seven. The memory of that afternoon has stayed with me all my life and she would be so pleased to know what an impact that single afternoon activity had. This is the time of year for giving, teaching and building memories. I'm happy to share my Grandma's recipe with you, and hope it inspires you to make some memories with the ones you love. Get the recipe for Grandma Millie's Fudge & Eggnog Fudge.


Almond Brownie Pinecone Critters
These little critters are quite deceptive! They pack a double surprise for anyone who comes upon them. At first glance, they look like a festive pinecone, but upon further inspection it's revealed that they're actually 100% brownie. The second surprise is the adorable, hedgehog-like faces you'll find at the front, pleading with you not to eat them. However, if you're as heartless as I am, that won't slow you down in devouring a whole plate of the little guys. Get the recipe.

Sugar Cookie Guillotine
I think people tend to romanticize the past a little too much and forget some of the darker events that took place. When I think of castles, I usually go immediately to princesses, stone turrets and riding white stallions through a meadow — I have Disney to thank for that.

Obviously, we often gloss over the past's more gruesome memories like medieval dentistry and public executions. Personally, I'm not into any of those things, but because the centerpiece of my Christmas table this year was a castle, I thought it would be funny to include a sugar-coated version of a contraption that is thankfully well out of date! Get the recipe.

Peanut Butter Snowballs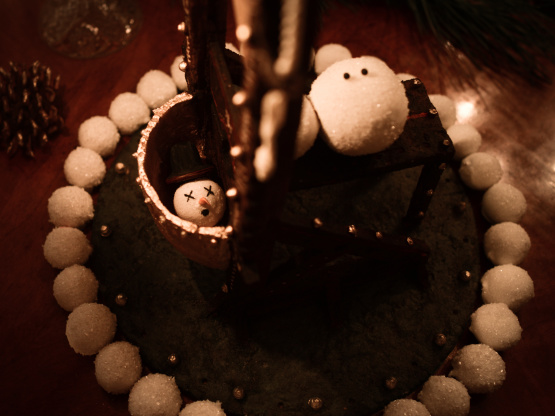 Buckeyes are a classic holiday staple, and this recipe is essentially the same with a slightly different appearance. These look beautiful displayed in a bowl for visiting family or friends around the holidays. If you're feeling creative, roll them in various sizes and stack to create sparkly snowmen (in this case, an unfortunate one!). Get the recipe.

Happy Holidays!