3 Ways to Revolutionize Fresh Herbs in Your Kitchen
This is kind of a big dill.
In the verdant lush of summer, I regularly find my fridge and countertops overloaded with fresh herbs. These aromatic greens were the inspiration for the Kale & Caramel cookbook: its pages are organized by herb and flower, exploring the flavor pairings, origins and healing properties of each. But as poetic as the fragrance of crushed basil leaves may be, the book is also an answer to that age-old question: What do I do with all this [fill in name of fresh herb du jour].

Kale & Caramel answers that question in three ways: Through recipes that use up herbs by the fistful (pestos, soups, juices, dressings and pastry), in easy DIY body and beauty products pure enough to eat and in infusions that elevate any ingredient they touch (honey, cream, sugar, salt and oil). Below are three favorites from each category.


get the Food.com app.
Watch on your iPhone, iPad, Apple TV, Android, Roku, or Fire TV.
Learn More
THE PESTO OF YOUR SUMMER DREAMS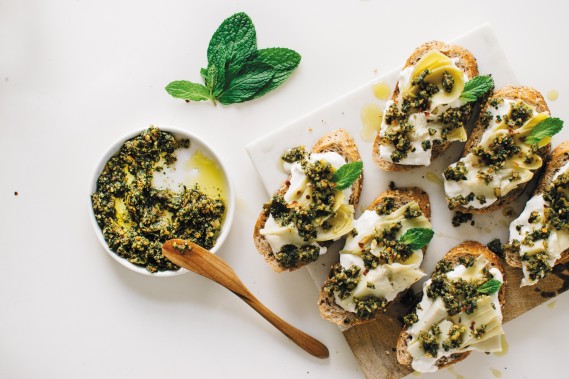 The roasted lemon mint pesto that adorns these burrata and artichoke toasts will blow away every preconceived idea of pesto: The mix features whole roasted lemons and rich hazelnuts in partnership with the bright pop of fresh mint leaves. It's tangy, toasty and liable to make you want to eat it by the spoonful. Get the recipe.

THE LIFE-CHANGING FACE MASK
What if I told you everything you need to get your skin glowing is probably already in your pantry? Kale & Caramel affirms this truth by introducing my personal campaign for raw honey as skincare president. The antibacterial, anti-aging nectar is literally responsible for keeping ancient Egyptian treasures preserved and will lavish the same curative powers upon your face. Here, I bring irritation-taming and skin-soothing basil into the mix, along with the gentle fruit acids of fresh berries. Watch the video.

THE STRAWBERRY CREAM PIE, UPGRADED
Almost any base ingredient — oils, creams, sugars, salts, flours — can be infused with herbs, elevating its flavor profile to new heights. The roasted strawberry cream pie gets upgraded with basil-infused whipped cream and an extra thick graham cracker crust. Trust — you won't want to go back to regular whipped cream once you get cozy with a cloud of the basil whipped cream from Kale & Caramel. Get the recipe.