Warm Sesame Cabbage Salad With Soy and Scallions (Zip and Steam)
WiGal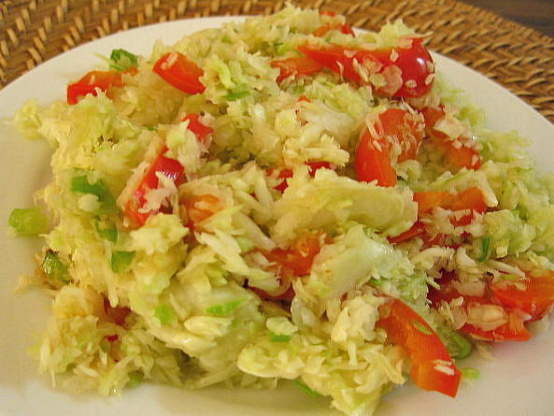 Zip lock has come out with these great little steamer bags. I'm going to down load several of the recipes for safe keeping. The idea is that steamed vegetables and meat are supposed to be better for you, because there is very little added fat. I suppose you could also make this in a traditional steamer, however, the cook times may vary.

5 stars from DH. I added lots of extra "heat" for him too. I also added bean sprouts. I didn't have the steam bags (I prefer not to microwave in plastic...even though they say it is safe.) I used a glass dish with a cover, it was perfect. Thanks for posting!
Combine all ingredients in a Medium or Large Ziploc® Brand Zip 'n Steam™ Bag.
Seal bag and shake gently to combine ingredients. Pat ingredients into single layer. Place bag in microwave.
Microwave on full power for 3 minutes or until cabbage is tender.
Allow bag to stand for 1 minute before handling. Carefully open bag and serve.
Garnish as desired with sesame seeds.