T.g.i. Fridays Jack Daniels Grill Glaze
loof751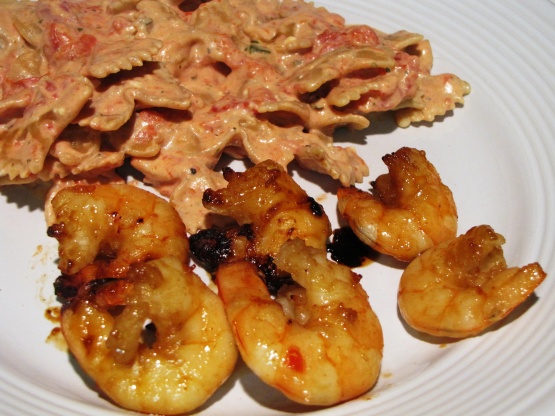 I found this out on the web last year and have made it a couple of times. We love it on chicken or shrimp kabobs grilled outside. It's wonderful.

Top Review by Paulcm
THANK YOU THANK YOU THANK YOU!!!My husband loves this better then the actual restaurant. We now spend 15.00 on a meal for four instead of 55.00 for the same thing!!!! Thanks so much! Finding anything my husband loves is not an easy task and he loves this!!!additonal comment: you can use already prepared ROASTED GARLIC found in your spice section at the grocery store to make this quick and simple. I use spice world brand!!!
To roast garlic--------------.
Cut about 1/2" off the top of the garlic.
Cut the roots so that the garlic will sit flat.
Remove the papery skin from the garlic, but leave enough so that the cloves stay together.
Put garlic in a small casserole dish or baking pan, drizzle with olive oil and cover with a lid or foil.
Bake in a preheated 325 degree oven for 1 hour.
Remove and let it cool until you can handle it.
For Glaze-------------.
Combine water, pineapple juice, teriyaki sauce, soy sauce and brown sugar in a saucepan over medium high heat.
Stir occasionally until mixture boils, then reduce heat to simmer.
Add remaining ingredients to pan and stir.
Squeeze out 2 t of roasted garlic and whisk to combine with pan mixture.
Let simmer for 35-45 minutes or until sauce has reduced by 1/2 and is thick and syrupy.
Make sure it doesn't boil over.
To use, grill meat until almost done, then use the glaze otherwise it will burn.