She Sells Sea Shells Pasta Salad for Kids!!

This fun pasta salad will delight kids of all ages. Easy to fix, easy to eat. Cooking time is mostly time in the refrigerator for the ingredients to "mingle."
Directions
Cook pasta according to package directions.
Rinse pasta and drain well; allow to cool (cool well as you don't want the cheddar to melt when you add it to the pasta).
In a large bowl, add the cooled pasta.
Slice honey ham into thin strips; add to the bowl.
Add pepperoni and shredded cheddar cheese.
In a smaller bowl, combine yogurt, ranch dressing, cider vinegar and honey. Mix.
Add salt and pepper, if you like.
Pour dressing over pasta and mix.
Cover salad with plastic wrap and refrigerate at least 2 hours.
Serve.
Most Helpful
A wonderful pasta salad that is definitely for adults too! I actually played around with the ingredient amounts, but I believe I remained faithful to the spirit of the recipe. I used 1 lb. of medium shell pasta (I just didn't think 1 cup would be enough). I used 8 oz. each of sharp cheddar and honey ham, and 4 oz. each of pepperoni and Genoa salami. For the dressing, I used 8 oz. of plain Greek yogurt and 4 oz. of horeseradish ranch dressing (after all, this was for adults) and doubled the vinegar and honey. Well, it turned out perfectly and, thankfully, it made a lot, because we ate it up like crazy! Thanks for sharing this great twist on pasta salad. Made for Tazzy's win in Football Pool 2013- Week 4.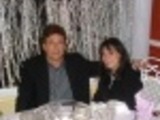 Good recipe for pasta salad. I left out the pepperoni since my 15 month old daughter would be eating it too. Next time I might add in some roasted red peppers or other veggies. Made for Football Pool week 11.

This was simple. I can definitely see my kids enjoying it. My 10yr old is out of town, and my 2 yr old wasn't interested in dinner tonight! LOL I enjoyed the dressing. I plan to modify it for a coleslaw dressing in the future. This was my first time using yogurt in a sauce and I loved it. I stuck to the recipe except for adding chopped celery for crunch and I used rotini pasta because I like the Mulit-grain, and it doesn't come in shells. Thanks!