Pulaski's Favorite Pontshki ( Polish Doughnuts)
mianbao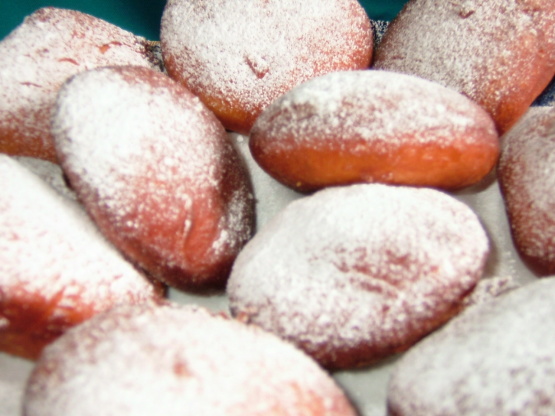 Way back on Shrove Tuesday, the day preceding Ash Wednesday, the Poles celebrate the last day of parties & festivals by baking & serving "pontshki". This was My Polish Grandmothers recipe. Never Made it--it is very time consuming ! I like this recipe because the doughnuts you get now are nothing like these! The old way is the best way & Taste a whole lot better! Never made these so have no Idea on cooking time or Prep time may be around 60 to 65 because of the yeast & dough rising time?

These are amazing! They are light and tender with just the right amount of lemon and spice. They were something of a project to make, and in the mixing in the melted butter stage, I had to work in the butter with my hands. After that the dough was very easy to work with and shape. It is important to put the shaped doughnuts on a well floured board. If you're craving good doughnuts, give this recipe a try. You won't be disappointed. Thank you very much Poker, for sharing this with us.
Mix crumbled yeast cake in lukewarm milk. Add the smaller amount of flour & set to rise in a warm place, covered with warm cloth, 20-25 minutes.
Stir butter, lemon rind (optional) sugar, mace or nutmeg & salt together.
Add the warm flour & egg yolks.
Mix this with yeast sponge & add enough lukewarm milk to make a dough as thick as bread dough.
Add butter, melted & cooled, & beat thoroughly for 10-15 minutes or until bubbles appear on surface of dough.
Cover& allow to rise about 20 minutes, then mix it lightly again.
Flour a board & take out small portions at a time.
Roll out to 1/3-inch thickness & cut in 2 to 2- 1/2 inch rounds.
For filling, use prune jam, marmalade or jelly.
Place filling in center of each dough round, leaving enough space around filling to press down & top round.
Wet edges before doing this.
Close edges tightly but do not spread dough out too large, trim edges again with cutter.
Lay on floured board to rise for about 1 hour or more.
They must be about twice their thickness.
Cover with warm cloth.
FRY in deep hot fat (360-370°F )& when golden brown on both sides, drain & sprinkle with powdered sugar.