A nice summertime side dish.
Directions
Slice zucchini and yellow squash diagonally.
Saute' vegetables in olive oil in large skillet over medium-high heat 3 minutes or until crisp-tender.
Add cheese and remaining ingredients; toss gently.
Serve immediately.
Most Helpful
I had some yellow and green squash (and basil) from the garden that I need to use up, and this was a great way to do so. 3 minutes was not enough time for the squash to cook, since my squash was rather large and I like it a little on the softer side. This is so simple, yet tasty. Thanks for sharing this.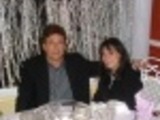 I have done this before except without the parmesan and basil. The addition of these 2 ingredients made this excellent. I was hoping that my husband would like this, since he didnt care for zucchini or squash in the past, but he refused to try it. :( The kids did try though and my daughter liked it. Thanks for a keeper podapo.

I do this kind of thing all the time in the summer. It's SO good.