Papa Bear's Baked Italian Lemon Chicken
Nimz1466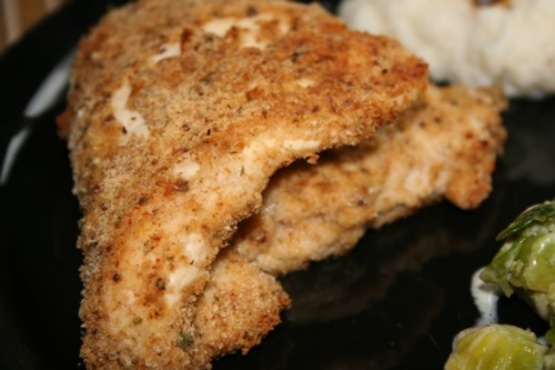 This recipe was given to me by a great guy we called "Papa Bear". This is easy and really good. Hi Papa Bear, if you're out there. :)

Thank you for such an easy scrumptious chicken recipe! Used thighs, with skin. Then, made a combo of black, wild and jasime rice, in the rice cooker. Topped the rice with the Watercress Cilantro Sauce found on Recipezaar, (but I didn't save it and can't find it again… there was yogurt in it, I remember). Anyway it was mmmm mmmm good. Next time I might just have to throw in some jalpenos somewhere there! Will use Papa Bear's recipe when chicken is called for in salads.
Place chicken between plastic wrap and pound to flatten just a little.
Place chicken in glass pan and marinate in lemon juice for about 10 minutes. Turning a few times.
Sprinkle chicken with lemon pepper and olive oil turn to coat and let marinate for another 15 minutes.
Put bread crumbs on plate and coat chicken on both sides.
Fold chicken in half and place in a glass baking dish.
Bake at 350 degrees for 8-10 minutes then flip over and bake another 8-10 minutes.
Do not overbake. :).