Original Indian Naan Bread
PKG178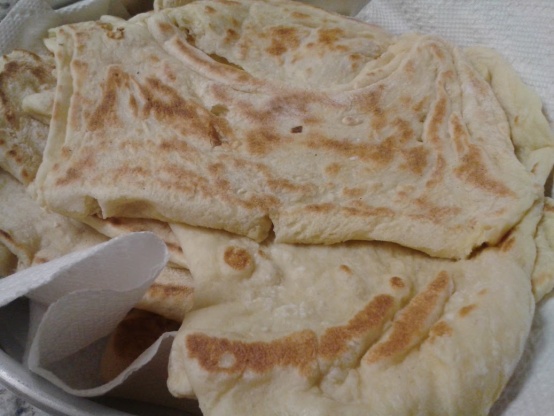 Nann are eaten usally with curries. Naans comes in different flavors: plain naan, butter naan, garlic naan. Originally they are cooked in tandoor but you can prepare this in your chiken. For prepaetion and more information look at http://www.vahrehvah.com/Naan+:3094

Top Review by PKG178
This is wonderful! I omitted nigella seeds simply because I don't have them. <br/><br/>Straight forward recipe with easily accessible ingredients on hand. I even used vanilla yogurt with no drastic changes in flavor (didn't have any plain yogurt). <br/><br/>I've rolled them no less than 1/4" thick. Any thinner and they turn into naan crackers! <br/><br/>I've noticed a heavy skillet/pan is crucial to getting the lovely crispy bits. I also use a lid and cover and do around 1 to 2 minutes a side, checking every so often to make sure the brown spots don't born. I used medium high heat to start, then adjusted the heat as necessary. <br/><br/>Thank you so much for sharing this wonderful recipe! It makes chewy soft naan.
Sieve the flour.
Add water, yogurt, egg yeast, nigella and salt to make a soft dough.
If dough sticks too much then use little bit of oil on hand and then punch into dough.
Top with oil.
Let rest covered 15-20 minutes.
Divide dough into 8-10 portion and form balls with little flour.
Let rest 20 minutes.
Now to make naan, set oven at broil.
Roll oval shape out of dough: flat your balls and toss to make them bigger.
Put 2 naans on the baking tray and place it into stove (make better naan on stove top) and flip it after about 2 min (you have to check!). On the other side they need now about 30-40 seconds (check!).
Repeat with the other naans.
Keep them covered with a towel and serve warm.
Note: If you like, after taking it out apply some butter on them. And they are ready to eat.