lets.eat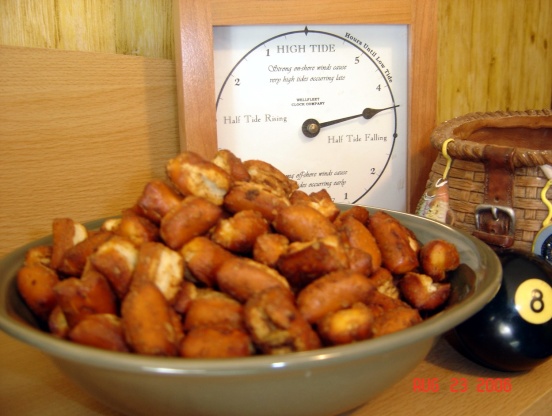 I'm not exactly sure where I got this one from-it may have been a variation on the "Chex Mix" party mix. It's fast, easy to prepare & is a great snack for playing cards (good beer food!). Not for those watching sodium content.

My husband is a very picky eater and he just loves this recipe. I suggest using butter flavored popcorn oil instead of real butter because it mixes very well with the onion soup mix and sauce, but it also covers completely every single pretzel.
1⁄2 cup butter, melted (I use unsalted)
1⁄4 cup onion soup mix (this should be equal to one envelope commercially prepared soup mix)

2 -4

tablespoons Worcestershire sauce

16

ounces plain pretzel nuggets (low salt version is great if you can find it, I've also used broken sourdough pretzel pieces)
Spread pretzels out in an even layer in 9x13-inch baking pan.
Melt butter.
Add Worcestershire sauce to taste (we like it dark so I tend to be heavy on it).
Add dry soup mix.
Stir until well blended.
Drizzle over pretzels; toss to coat all pieces.
Bake for 45-60 minutes in 250°F; toss every 15 minutes to make sure pieces toast thoroughly. Pretzels should be dark brown but not burnt.