jenne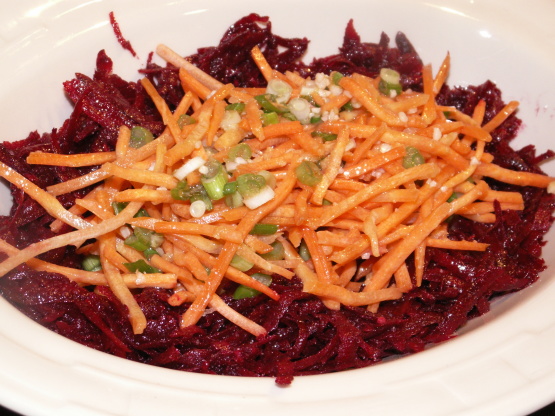 The red and orange colors of shredded beets and carrots make this a beautiful centerpiece with a crisp texture and tangy flavor.

Tasty! Looks good too even with all the ingredients mixed as I did. DD (toddler) and I enjoyed this almost raw salad. I like it a whole lot. Yes my DD likes healthy food because that is what I feed her. I left out the lettuce as I feel it was just for presentation. Next time I would like to use an organic beet and carrot as they have so much more flavour and are more healthy but even with non-organic produce this was very good. I peeled the beet with a knife on a aluminum foil covered cutting board with my hand in a plastic bag. Kept my hand in the plastic bag for grating it too and no mess was made. I used unrefined extra virgin olive oil, organic apple cider vinegar, 1 small-medium garlic clove, sea salt, freshly ground black pepper, plus the rest of the ingredients. I would like to make this again. Made for Veggie Swap 38 ~ September ~
Coarsely grate the beet and then the carrot to yield abuot 1 1/2 cups of each.
Place in separate bowls and set aside.
Grate the ginger finely and combine it with the oil, vinegar, and garlic.
Toss the beets with half of the dressing and add salt and pepper to taste.
Mix together the scallion, carrots, and the remaining dressing.
Add salt and pepper, if you desire.
Arrange the lettuce on a platter, mound the carrot mixture in the center, and spoon the beets around it.
Serve chilled or at room temperature.
Enjoy!