Dessert - Mishti Dohi - an Indian Style Cheesecake
tuti696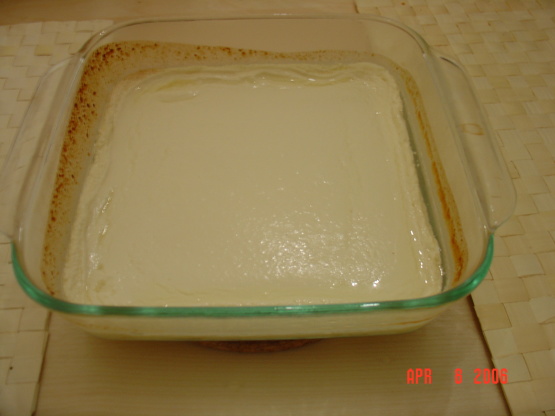 I have known this recipe to be a traditional Indian bengali sweet dish. Mishti is sweet in Bengali and Dohi is yoghurt. Bengal has given India a range of sweet dishes that include sandesh, ras malai, rasgulla and mishti dohi. Here is a quick and tasty adaptation of the dessert that I learnt from a Bengali friend. To me it tasted a little like cheese cake, but my husband disagrees. So I would suggest all cheese cake lovers to try it out.

I was astonished at how rich this turned out. It was delicious, like a light cheesecake or soft custard. I did change the recipe a little bit by measuring out from yogurt that I'd strained the liquid out of overnight and added an egg to give it a firmer body. It did stay softer in the center, more like a stirred custard consistency, but the edge was cheesecakey. That works for us because I liked it more solid and my husband preferred the creamier center, but it might be a problem for some people (although this effect might have been because of my additions/substitutions). I served it to guests with a sweetened mango puree and everybody loved it. Thanks for sharing!
Mix condensed milk, milk and yoghurt with an egg whisk.
Add the vanilla essence.
Transfer it into your glass serving bowl.
Bake it in the oven at 350 degree F for 20 minutes.
Let it cool down to room temperature.
Cover with cling wrap and refrigerate for 4-5 hours.
Serve with graham crackers crumbs.