Crunchy Yummy Salad (Fennel and Apple Salad)
Rita1652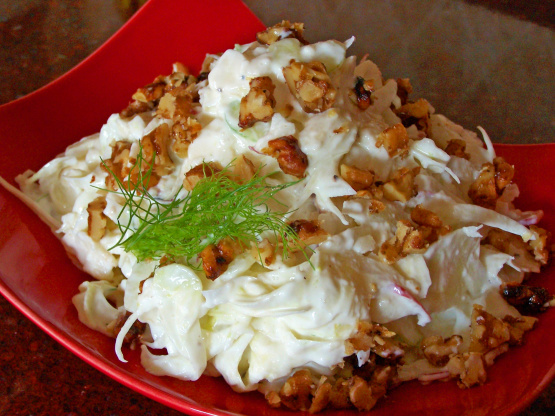 This is my take on a Waldorf Salad using things I happened to have on hand. This is my 1st taste of fennel, and I was pleasantly surprised to find that I like it. I did not include chilling time.

Crunchy? Yes! In deed. I did use a fragrant red Gala. A mandolin is a must! I used Recipe #91909 and used black pepper and a touch of salt which is a no no for me, but found it did need it. Did use no fat plain Greek yogurt. Raisins, Cranraisins or currents would be great in this. Thanks for the delish salad!
In a small bowl combine lemon juice and yogurt, set aside.
Finely slice the fennel. I used a mandolin.
Halve and core the apple. Leaving the skin on, finely slice it. I used a mandolin for this as well.
In large bowl combine the fennel, apples, and walnuts.
Pour dressing over the fennel mixture and toss to coat.
Chill until ready to serve.