British Bacon Butty/ Sandwich
ImPat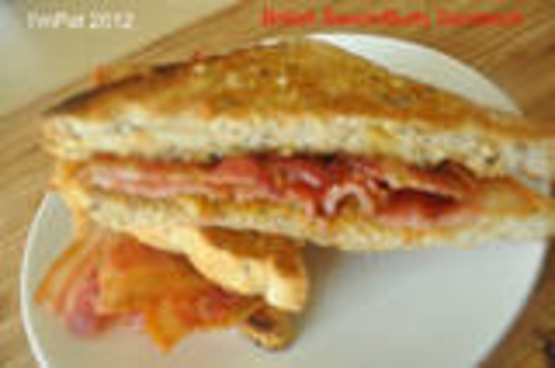 A bacon sandwich is a very British breakfast. This is my favourite version of it. The type of bacon to use is back bacon, not the typical American streaky bacon. Everyone has their favourite version of this recipe- this is just my take on a classic! My nephew is a picky eater and this sandwich was his first ever taste of bacon! To make this Weight Watchers friendly, I sometimes use the bacon medallions that have the fat trimmed off- if using these, reduce the cooking time so they don't dry out. This is also excellent served in a white roll with a fried egg.

Oh, please, what's a bacon butty without a little mayo? One of my very favorite b'fast/brunch sammies, although I had never used ketchup on one. Live and learn! Thoroughly enjoyed. Thnx for sharing your recipe, Shuzbud, Made for the Voracious Vagabonds of ZWT 6.
Preheat the oven grill to medium-high and cook the bacon until done- crisp but not dry. This should take 5-10 minutes.
Spread a thin layer of mayonnaise over one side of each slice of bread.
Top the mayonnaise with a thin layer of ketchup.
Place the bacon on one slice of bread and top with the other slice of bread.
Cut in half diagonally and serve hot!
NB Best served with a hot cup of tea!