Peter J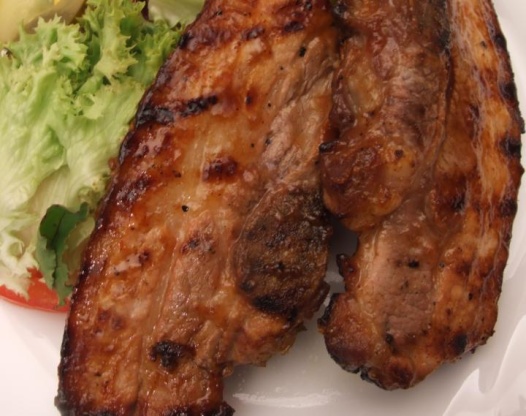 We have a restaurant that makes super delicious ribs called Bar-B-Barn. This is a recipe as close to theirs as I could get.

With parboiling the ribs, they were very tender. I decided to bake the ribs because of the amount of sugar in the sauce...I was afraid they would burn on the grill. But I think I missed out on the smokey flavor from grilling outside. The sauce was very sweet, and I chose this recipe because my DS loves sweet barbecue sauce. But he didn't like it...he said it was too sweet. I give this recipe 5 stars for tenderness of the meat, but 3 for taste....way too sweet for someone from "down south"! It's a personal preference, so if you like your ribs sweet, try the recipe....they are very tender! Made for Everyday is a Holiday Tag!
In a heavy saucepan, mix applesauce, brown sugar, lemon juice, salt, pepper, paprika, garlic powder and cinnamon.
Over medium high heat, bring the sauce to the boiling point and continue boiling one to two minutes.
Place parboiled ribs in an oven-proof dish and brush liberally with the sauce. Bake for 45 minutes at 350° or grill over medium heat till browned.
Turn ribs and brush underside with remaining sauce. Continue baking for 45 minutes. Serves four.